2013 Subaru Legacy at the 2012 New York International Auto Show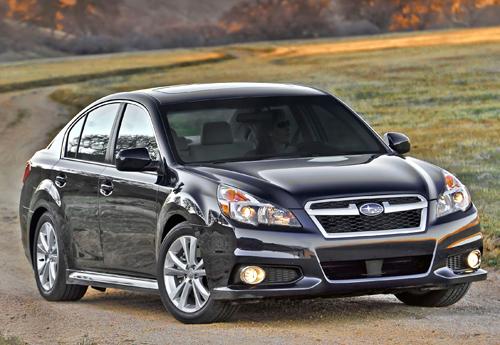 Competes with: Ford Fusion, Suzuki Kizashi, Toyota Camry
Looks like: The Legacy grows a pair of eyes
Drivetrain: 173-hp, 2.5-liter four-cylinder with six-speed manual or CVT; 256-hp, 3.6-liter six-cylinder with five-speed automatic
Hits dealerships: This summer
For the 2013 model year, the Subaru Legacy gets a mild refresh with a slightly redesigned front end, a more fuel-efficient four-cylinder and automatic transmission, and a driver-assist safety program, which includes stereo-vision cameras. Unfortunately for performance junkies, the turbocharged 2.5GT, with its 265-hp, turbocharged 2.5-liter four-cylinder and six-speed manual, has been dropped for 2013.
More 2012 New York Auto Show Coverage
Up front, the 2013 Subaru Legacy gets new headlights, grille, fog light and bumper designs that tie in better with the all-new 2012 Subaru Impreza.
The big news for the 2013 Legacy is its new base four-cylinder. It is Subaru's third-generation boxer engine and features new advancements like dual-overhead-cams; it first debuted on the 2011 Subaru Forester. The four-cylinder also can be equipped with a second-generation continuously variable automatic transmission. Subaru expects the new setup to achieve 24/32/27 mpg city/highway/combined, compared to 23/31/26 mpg for the 2012 Subaru Legacy 2.5i with a CVT.
The Legacy's chassis has also been reworked, giving the model a smoother and quieter ride, according to Subaru.
Another big area of improvement is the model's added safety features. The Legacy now uses adaptive cruise control, a precollision braking system, and lane departure and sway warning systems. All of the systems tie into a pair of cameras that lend the vehicle stereo vision, which can detect pedestrians; Subaru calls the safety tech, Eyesight. At less than 19 mph, the system can detect pedestrians and take pre-emptive actions to prevent an accident, according to Consumer Reports. Volvo's City Safe and Mercedes' Pre-Safe do the same thing, more or less, but Subaru says its Eyesight system will be one of the most affordable options available. Other safety additions include a brake override system that's standard on all Legacys.
In the cabin, the Legacy Limited gets a new rear-seat air vent outlet. Limited models also get a new electroluminescent instrument cluster with a 3.5-inch color screen. A keyless entry system is also available for the model year. All Legacys now get standard Bluetooth connectivity and audio streaming.
The 2013 Legacy goes on sale this summer.