Bentley EXP 9 F Concept at the 2012 Geneva International Motor Show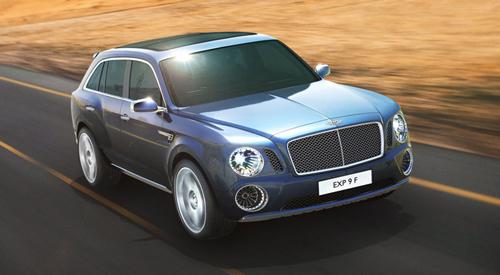 Looks like: Bentley is upping its calorie count big time
Defining characteristics: It's Bentley's first SUV concept
Ridiculous features: Pop-up picnic area complete with awning, umbrella and, of course, a champagne bucket
Chances of being mass-produced: Likely, though its name will change
We've heard rumors of a Bentley SUV for a while now, and it looks like the automaker is still testing the waters, this time with the EXP 9 F Concept. The SUV looks like a portlier version of the Continental, especially up front, where it wears Bentley's large traditional matrix grille. The concept's design suggests the automaker was inspired by fighter jets, with large turbine-looking 23-inch wheels and taillights that resemble a jet engine.
Power comes from the Continental lineup's twin-turbocharged 6.0 liter W-12 engine -- making 600 horsepower in this application -- and an eight-speed automatic transmission. If produced, Bentley says its new twin-turbo V-8, and even a hybrid powertrain, would also fit.
The cabin is trimmed with several polished metals, including aluminum, bronze and gunmetal. A panoramic glass roof spans the interior. Other luxury interior features include reversible leather and silk wool floormats and diamond-quilted leather seats. Something Bentley calls "virtual instrumentation" and 3-D navigation are part of the control panel.
Backseat passengers are treated to reclining seats, powered footrests, internet connectivity and a cooled compartment for champagne and glasses. In back, the two-part tailgate can be transformed into a picnic area, complete with picnic baskets, an awning over the tailgate and umbrellas in the side compartments.
Although the automaker hasn't confirmed production of a sport ute, it did say the concept "offers a vision of the future" and a "natural progression for the company." We expect to see an SUV from Bentley in the next couple of years.
Clicking on any image below will launch a larger photo gallery; you can browse through them by hitting the right and left arrow keys.