Would You Buy It? 2013 Ford B-Max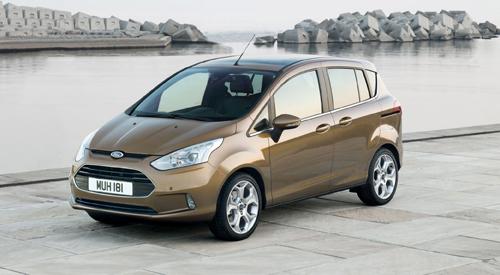 Does the U.S. market need another mini-minivan? Well, the
Mazda5
is doing OK here, so why not add Ford's B-Max to the mix?
The B-Max was unveiled at the 2012 Geneva International Motor Show earlier this month and will go on sale in Europe later this year. It's a difficult-to-classify vehicle thanks to its compact wagon body style, tall ride height and sliding doors. Ford calls the B-Max a "city-friendly crossover," and in looks and purpose, it's a cross between the Mazda5 and Honda Fit. The wagon seats five passengers and rides on a stretched version of the Ford Fiesta platform, making the 164-inch B-Max quite a bit smaller than the 180.5-inch Mazda5 and a bit longer than the Fit.
In terms of styling, the B-Max gets points over the awkward, angular Mazda5, but they share the sliding door setup. We know the B-Max's minivan doors may seem uncool. We get it; however, they provide a much wider opening than a traditional door, which is great when trying to load people, stuff or a child-safety seat into the second row. Maybe sliding doors are even better for entering tight spaces like the B-Max versus the cavernous confines of full-size minivans. Ford says the front passenger seat and backseat can be folded to create a flat load floor capable of swallowing loads measuring up to 92.5 inches long.
A variety of gas and diesel engines will be offered, including a turbocharged 1.0-liter three-cylinder engine making 118 horsepower. It's a member of the efficient EcoBoost engine family and features standard start/stop functionality and an Eco mode, which lets the driver know when the car is being driven most efficiently. Ford estimates it'll have a fuel consumption rating of about 4.9 liters/100 kilometers, which translates to 57.6 mpg on the European cycle.
For a subcompact, the B-Max has some impressive equipment, including Active City Stop, a safety system that automatically applies the brakes if a low-speed crash is imminent. Ford's Sync voice-activated multimedia system is also available, as are a panoramic sunroof, rearview camera and leather upholstery.
With gas prices continuing to skyrocket, smaller, fuel-efficient vehicles should look more appealing to cash-strapped U.S. consumers, especially if the vehicles are versatile and equipped with the latest safety and tech features.
The B-Max has all of the above, but according to Mark Schirmer, Ford's global communications manager, the automaker has no plans to market it in the States and wants to instead focus on sales of the Fiesta subcompact and the compact Focus.
Can a case be made for the B-Max? Well, Honda Fit and Mazda5 sales were both up in 2011. Though not overly impressive, Mazda sold 19,155 Mazda5s last year, up 22% from 2010 sales. Honda moved a healthy 59,235 Fits in 2011, up 9% over 2010 sales.
So, why isn't Ford considering widening the B-Max's reach?
"In Europe, the B-segment is the meat and heart of the market. In the U.S., we recognize that it's a smaller part of the market," Schirmer said. Offering another subcompact car to U.S. buyers would create competition within Ford's own lineup, he said. Schirmer also noted that to Ford's North American operations, the compact C-segment is a more important class, making the Focus a top priority.
Ford spokesman Said Deep also confirmed to us that the B-Max doesn't have a future in the States, but don't rule it out just yet. Earlier this month, Ford CEO Alan Mulally told Canada's The Globe and Mail that the B-Max might eventually make its way to North America.
The deciding factor for Ford will ultimately be the consumer. Tell us, would you buy it?