2013 Nissan Altima Rated at 38 MPG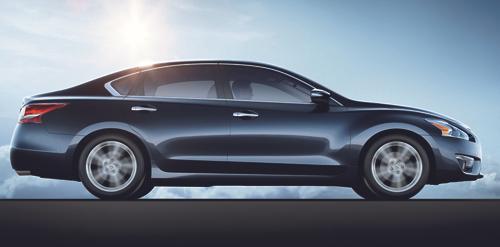 The 2013 Nissan Altima sedan has a preliminary EPA rating of 27/38/31 mpg city/highway/combined. That's an outstanding rating for a midsize sedan, and it easily outdoes all other naturally aspirated midsize sedans. The 31 mpg rating isn't for a special fuel-saving trim, either; it's for the standard model that you get for the $21,500 base price.
Compared to the best naturally aspirated mainstream sedan, the 2012 Toyota Camry which gets 25/35 mpg city/highway, the 2013 Altima is 3 mpg more fuel efficient on the highway. Even compared to the mild-hybrid 2013 Chevrolet Malibu Eco (25/37 mpg) or the 2013 Ford Fusion with its fuel-efficient 1.6-liter Ecoboost engine (26/37 mpg), the base Altima is more fuel efficient.
The 2013 Altima comes with a 182-horsepower, 2.5-liter four-cylinder, which produces 180 pounds-feet of torque. The four-cylinder is mated to a newly developed continuously variable automatic transmission that produces 40% less friction than the previous model. The Altima also benefits from weight reduction; it uses lightweight aluminum hood and bumper reinforcements as well as a new electronic hydraulic power-assisted steering system. Total vehicle weight has been reduced by 80 pounds. The Altima also features low-rolling-resistance tires and a new regenerative alternator that operates when the vehicle is coasting.
Related
2013 Nissan Altima at the 2012 New York Auto Show
2013 Nissan Altima Sedan Priced at $21,500
Along with its best-in-class fuel-economy rating, Nissan says this engine is targeted for "best-level" acceleration figures when compared with other naturally aspirated four cylinders in mainstream midsize sedans.
Due to the new CVT, the fuel efficiency of the 270-hp, 3.5-liter V-6 has also improved by 10%. It's now rated at 22/30/25 mpg.
The 2013 Nissan Altima sedan goes on sale in July.