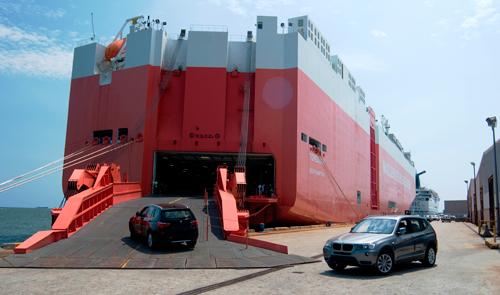 As the auto industry regains its footing here, both foreign and domestic automakers are exporting more cars from the U.S. than five years ago, and they plan to dramatically expand that effort over the next half-decade.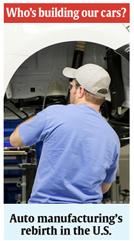 The combination of plant capacity, build quality, free-trade pacts, currency concerns and the maturity of the U.S. market have combined to make this a good place to assemble cars for sale overseas. "We are a low-cost manufacturing zone at the moment; that makes building here attractive," said Ed Kim, director of industry analysis at AutoPacific.
As the recession slowed car sales, capacity at U.S. plants was hardly being reached. With production and sales running well-below plant capacity, "one way to fill that capacity is to build cars for overseas," Kim said. "It's a smart allocation of resources."
Of course, "there are currency issues at play here," he said. With the yen extremely strong compared to the dollar, it makes sense for Japanese automakers like Nissan, Honda and Toyota to ramp up U.S. production.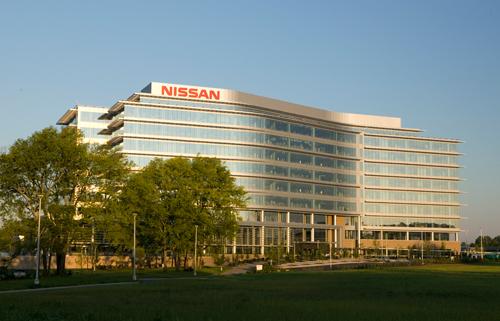 Nissan already ships all its U.S.-built products overseas to 46 foreign countries and U.S. territories, said David Reuter, vice president of corporate communications for Nissan Americas. "The No. 1 exported product is the Nissan Altima, with major destinations being Canada, Mexico and the Middle East," Reuter said.
A redesigned Altima will be unveiled this week at the New York International Auto Show in Manhattan, and Reuter expects that new version to help increase Nissan's exports. "In the next two to three years, the company will nearly triple the volume of vehicles exported from U.S. manufacturing locations," he said. "The number of destinations will more than triple, as well. This will be fueled by the next-generation Altima, the [all-electric] Nissan Leaf , Nissan Rogue and [the recently introduced] Infiniti JX."
Domestic automakers also are bullish. "While GM's operating philosophy is to produce where we sell, we still have a substantial export business," said spokesman Brian Goebel. "In 2011, we exported more than 275,000 vehicles, and our exports have grown substantially over the past five years.
Other automakers export from the U.S. as well:
Mercedes-Benz's plant in Tuscaloosa County, Ala., built 148,092 SUVs - the M-Class, R-Class and GL-Class, according to Felyicia Jerald, communications manager. Nearly two-thirds of those were exported to more than 130 countries. Interestingly, when the plant opened 18 years ago, that ratio was reversed, with only one-third exported.
Toyota exported 85,000 vehicles last year from the U.S.; its export plan focuses on increasing sales of U.S.-assembled vehicles in markets where the it makes sense, said Javier Moreno, a Toyota spokesman.
South Korean automaker Hyundai is sending nearly 50,000 Sonatas and Elantras from its plant near Montgomery, Ala., to Canada and Puerto Rico, according to Hyundai plant spokesman Robert Burns. Hyundai's exports to Canada from that plant have grown by 127 percent since 2006, Burns said. Exports to Puerto Rico have grown nearly 300 percent in the same period.
Hyundai's corporate sibling, Kia, exports Optimas, Sorentos and Santa Fes from its plant in West Point, Ga., said spokesman Michael Ofiara. Kia exports about 9.5 percent of its Georgia-built vehicles to Canada and Puerto Rico. Recent expansion gives Kia more production flexibility, but right now, it has no plans to move additional manufacturing facilities to the U.S.
For the Chrysler Group, the Jeep brand carries international cache and is the automaker's "truly global brand," said spokeswoman Michelle Callendar. Jeep sold 172,849 units overseas in 2011, up 17 percent over 2010, Callendar said. The company says that most of those Jeeps were exported from the U.S., though they were bolstered by some unspecified production in Egypt and Venezuela "mainly for the local markets," she said.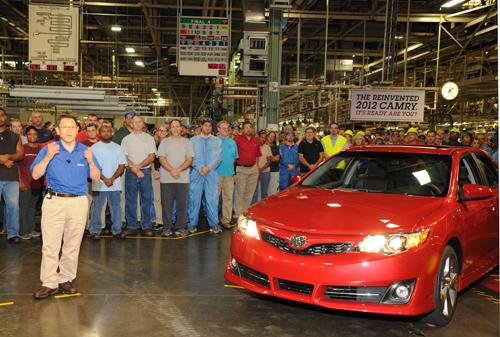 So, why do automakers build in the U.S.? After all, the common perception has long been that Mexico, South Korea and other foreign locales offer cheaper labor than their U.S. counterparts.
For Nissan, "cost efficiency will always be a key to a successful export strategy," Reuter said. "No matter how much an export market may want models like the Maxima or Frontier, as an example, we wouldn't do it if we couldn't do it profitably. So currency issues are always key in our export plans."
Then there's U.S. quality. It seems that when a company pays little for labor, it's hard to maintain the necessary standards. "Quality is no longer a nice-to-have," AutoPacific's Kim said. "Now it's the cost of entry."
"There's a very, very consistent quality for cars you get from here," Kim said. "It's a changed world.
"Years ago, there was a definite difference between automakers," Kim said. Now, "the quality that comes out of the U.S. is equal to the best in the world."
The recent U.S.-South Korea free-trade deal has many automakers eyeing that market with growing interest:
"We anticipate continued growth as the U.S. implements new trade agreements and as emerging markets — such as Mexico, China and Russia — continue to grow rapidly," GM's Goebel said.
"Given our recent announcements of Sienna and Camry exports to South Korea along with other possible achievements in the future, we plan to continue boosting exports from our U.S. operations," Toyota's Moreno said.
Why the interest in South Korea? "In recent years, import tariffs and other taxes on imported products have been greatly reduced, so the streets rapidly started filling with import cars," Kim said. "Despite the fact that Korean vehicles are now as good as any in the world, it seems to be a truism in developing markets that foreign products have a prestige that domestic ones don't. That goes for all kinds of products, including non-automotive.
"With the free-trade agreement, U.S. vehicles will have an even greater price advantage than other imports," he said.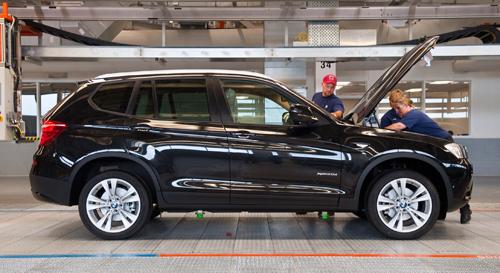 In addition, "Exporting to Korea from the U.S. is advantageous because we have become a relatively low cost manufacturing zone due to our currency," Kim said. "Whether we're talking a South Carolina-built BMW or a Kentucky-built Camry, these are cheaper to build than German- or Japanese-assembled versions of these vehicles."
While currency trends could reverse to where they have been — "Could something crazy happen to change the equation? Yes," says Kim — building more vehicles in the U.S. is working for many automakers.
"Based on where things are now," Kim said, "this definitely seems to be the right move for automakers."
This story is part of a joint series about automotive manufacturing in the U.S. by Cars.com and USA Today. Additional stories will follow next Monday, April 9 here and on USA Today.