Cars.com Adds More 2012 Best Bets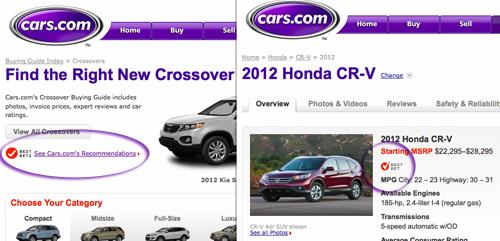 We announced this year's 2012 Best Bets last month. These are cars that we recommend based on a number of criteria including reliability, crash tests and how they perform on the road.
This week we're able to announce our Best Bets for Green Cars. This category consists of hybrids, alternative-fuel vehicles as well as a few others that just received the nod to be added to the list.
You can see the additions below and our initial list here.
New Best Bets
Best Bets for Green Cars
Best Bets include any vehicle you can be confident in buying. We have four criteria in determining which cars to recommend:
The car must get average or better fuel economy for its segment
The car must have average or better reliability
The car must get average or better scores in crash tests (although we do have some exceptions for low-volume models that are not crash-tested)
And Cars.com's editors must endorse the car as well.