Fisker Atlantic Concept at the New York Auto Show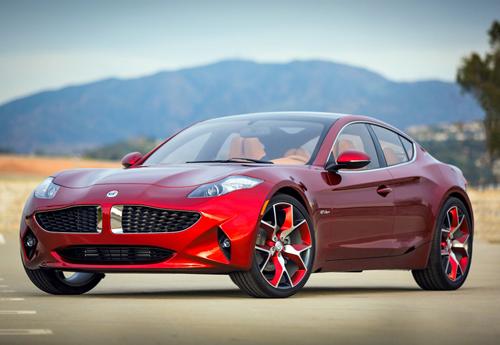 Looks like: A smaller Karma with a family focus
Defining characteristics: Familiar Fisker lines, 22-inch wheels, folding backseat
Ridiculous features: No timetable, no price, few drivetrain details and no factory in which to build it
Chance of being mass-produced: The intention is 100%; only the company's considerable challenges call the model's future into question
Fisker Automotive, the company behind the Karma range-extended electric car, has finally given shape and a name to the more affordable car heretofore known as Project Nina: The Atlantic appeared on the eve of the 2012 New York auto show as a concept. The company's co-founder and designer Henrik Fisker said the model is 90% into its development cycle. If the Karma is any indication, the real thing will look almost exactly like this concept, though Fisker says the interior will be changed substantially.
More 2012 New York Auto Show Coverage
From its front-end design to its 22-inch wheels, the Atlantic is an obvious Karma sibling, though the company says it doesn't share the $102,000 luxury car's platform. Lighter and roughly the size of an Audi A6, the Atlantic is meant to be more affordable and mass-marketable, though the company is mum on a timetable and pricing. Originally, Project Nina was expected to go on sale in 2013 priced at around $50,000 to $60,000, a reasonable range to compete with the Tesla Model S, for which competitor Tesla has similar goals.
Fisker has revealed little about this model's drivetrain except to say it mirrors the Karma in principle; it's a series hybrid that provides a limited electric-only range before a gas-powered generator fires up to keep the car going. The rear-wheel-drive car also adds an all-wheel-drive option. Fisker says this second-generation powertrain will drive its generator with a four-cylinder gas engine from BMW.
While this four-door is noticeably smaller than the Karma, the roofline is higher, and "spider" cross-bracing leaves only a glass roof above the rear passengers for more headroom. Its backseat is said to be roomier, and the battery pack that runs through the middle of the cabin appears to be a bit lower. The trunk is also larger, and the rear seats fold forward — a rarity among hybrid and battery-powered sedans.
Though it's been knocked down a couple of times by high-profile setbacks, Fisker seems to be adept at getting back up. Battery supplier A123 Systems has taken responsibility — and is footing the bill — for a recall to replace the battery packs on 2012 models, a few of which have failed completely. In March, due to Project Nina delays, the U.S. Department of Energy froze payments to Fisker from a $529 million loan. Then, just days before the Atlantic concept's introduction, the company announced having raised $392 million in private funding. Now Fisker is re-evaluating whether the Atlantic will be built at a former GM plant in Wilmington, Del. "We're still looking at Wilmington as our primary choice right now," said Fisker's recently appointed CEO Tom LaSorda. "I always look for other options."