Ford to Take Retro Looks Out of Next Mustang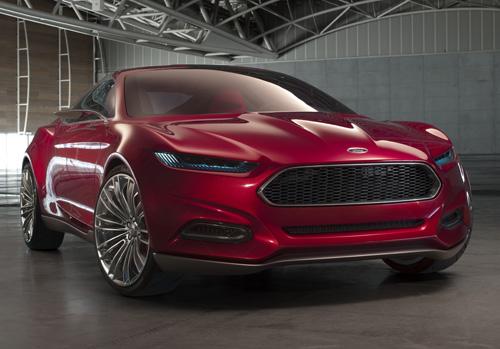 When the next-generation Ford Mustang debuts sometime next year, consumers can expect a modern, luxurious look, according to the Wall Street Journal.
In a bid to stop sagging sales and attract the attention of a younger audience, the Mustang will lose its swinging '60s look and opt for a radical look that more closely associates the performance coupe with the redesigned 2013 Ford Fusion, according to Ford insiders who spoke with the Wall Street Journal.
The new Mustang will look somewhat like an Aston Martin, according to the Journal. Insiders who've seen the new Mustang said it is "almost a body double for the Evos concept," the Wall Street Journal reports.
The visual departure is a stark move from the current Ford Mustang's styling, which first debuted in 2005 to great acclaim. The current model features rounded headlamps, a "shark-like" nose, three-element taillamps, radial chromed air vents and a retro-inspired three-spoke steering wheel; they're all meant to conjure images of the 1967 Mustang.
While those features helped revive the Mustang then, sales have steadily fallen since. Last year, Ford sold 70,438 Mustangs, down 4.4% from 2010 and less than half the 166,530 it sold in 2006, according to the Wall Street Journal. The 2010 and 2013 refreshes have done little to stem falling sales. In fact, last month both the Dodge Challenger and Chevrolet Camaro outsold the Mustang. The reintroduced Camaro also outsold the Mustang last year, which is the first time that's happened since 1985, according to Jalopnik.com.
Ford thinks a model that's more in tune with today's car buyers will help attract a younger demographic and also distinguish its model against the retro-inspired Camaro and Challenger. Currently, the average age of a Mustang buyer is 51 years old, according to the Wall Street Journal, which isn't exactly old for a new-car shopper but still not good for a supposed youth-oriented vehicle.
A stark departure in styling wouldn't exactly be blasphemous for the Mustang, either. Before its 2005 redesign, the Mustang's styling had kept up with contemporary design themes; there was even a radical proposal to develop a Mustang off of a front-wheel-drive Mazda-designed platform in the 1980s. It ultimately spawned the Ford Probe.
Ford will keep a couple of retro looks for folks inextricably attached to the old Mustang; the Wall Street Journal says the new Mustang will keep its shark-nosed hood and round headlights.
Mustang Makeover: What Does Ford Have in Mind? (Wall Street Journal)