How Gas Could Hit $6 a Gallon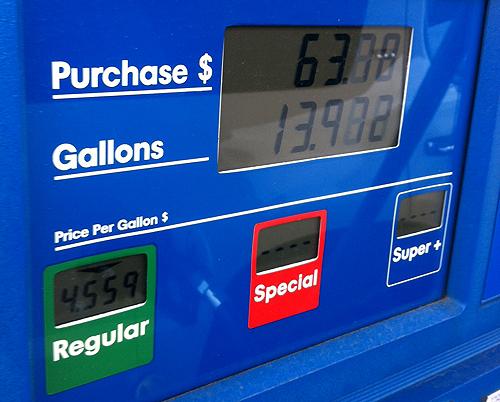 The national average gas price eclipsed $3.90 last week, leaving March auto sales awash in high-mpg choices. With two new variants hitting dealerships, the Toyota Prius saw its best sales month in nearly 12 years of U.S. sales. Half of the 10 best-sellers offer a hybrid version, and two of the non-hybrids have versions with EPA highway ratings of 40 mpg or better.
Fuel prices are ramping up faster than their usual summer gains, and there's a 20% chance that prices could spike to nearly $6 a gallon, industry research firm IHS says.
"Only 3 percent of consumer budgets go to gasoline. That's tiny," IHS chief economist Nariman Behravesh told attendees at a conference sponsored by IHS and the National Automobile Dealers Association on the eve of the 2012 New York International Auto Show. "But here's the psychological part of it: They're seeing the prices every time they go to the pump."
What Is Causing the Boost?
In the near term, two factors are pushing gas prices higher. The first is supply disruptions and limited capacity. "There's not a lot of spare capacity worldwide for a variety of reasons," Behravesh said, noting supply disruptions in Yemen, Sudan and Syria are partly to blame for the price of oil.
Then there's what Behravesh called the "Iran risk premium," or a bump in gas prices from months-long fears of war with Iran. We won't go too much into the weeds, but sanctions over the country's nuclear program could induce the country to disrupt the Strait of Hormuz, a vital shipping lane for oil. The situation remains tenuous, and IHS says "accidental" escalations, not a military strike, could lead Iran to shut Hormuz. Such fears have already driven oil up $20 to $30 per barrel.
Brent crude oil — which largely determines what drivers pay at the pump, according to IHS analysis director Mike Wall — traded at $125 a barrel on Tuesday.
"There are two narrow shipping channels there — it's fairly easy to mine," Behravesh said. "NATO forces, especially American forces, would clear [the strait], but you would have a period of a few weeks where oil could not come out of the Persian Gulf."
Twenty percent of the world's oil comes from that region. If this happened in January 2013, IHS projects oil prices would spike to $240 a barrel then retreat to $160 by spring and return to around $120 by summer.
What does that mean for drivers? Expect pump prices to spike to "the upper $5s," Wall said. Consumers would respond with a sudden, if short-lived, shift to hybrids and plug-in vehicles. The latter group was largely unavailable during gas-price spikes in 2008.
Would Nissan, GM and other plug-in automakers be able to fill the demand? GM has more Chevrolet Volts on hand than it knows what to do with, after all. But Wall suspects not. "I don't think there is really enough [manufacturing] capacity to accommodate" an Iran-fueled spike in demand, he said.
Nissan might fare better. The automaker is shifting production of its Leaf electric vehicle to the U.S. — a move that could allow Nissan to meet the demand, fellow analyst Tracy Handler noted.
Either way, IHS says a spike to $200 or more per barrel could do serious damage to an auto industry just beginning to enjoy better times.
In the long term, Behravesh sees vast quantities of oil from unconventional sources: shale, tar sands and more. "So all of a sudden the prospects for energy supply, for energy prices, in the medium to long term are looking quite good," he said.
No Big Shift Yet
The Middle East may push gas prices higher, but consumers are sticking to the types of cars they own. Even as gas neared $4 a gallon, Detroit's full-size pickups combined to improve 13.4% in March sales. Even the age-old Chevrolet Avalanche, which the EPA rates at just 17 mpg combined, flew 25.9%. And the Dodge Challenger, whose city EPA mileage is in the teens, saw its best sales month yet.
"There is still a market for that car, even with $4-a-gallon gasoline," an upbeat Reid Bigland, who oversees Chrysler's U.S. sales, told conference attendees. Indeed, a study last month by CNW Automotive Research showed that 82 percent of consumers still trade their cars for the same segment of vehicle, despite more than four-fifths of them listing fuel economy among the top three reasons they traded in their cars.
"Downsizing is now a function of practicality or driving needs rather than an attempt to boost fuel economy," CNW said in a statement. "In fact, of all the respondents, only 7% of large-car owners traded for a smaller model — barely more than in 2007."
Gas prices would have to reach $4.75 a gallon for consumers to make radical shifts, CNW predicts. An Iran crisis could bring that overnight — but short of it, today's choices and gas prices may not require a change in the type of car you own.
"People look at an 11-year-old car," said Ford marketing chief Jim Farley, referencing the median age of today's cars reaching a record 10.8 years. "Remember, most of those vehicles are V-6s," Farley said. "It's totally conceivable now that they can get the same class of vehicle for 10 miles per gallon better."