Infiniti May Build EV alongside Nissan Leaf in U.S.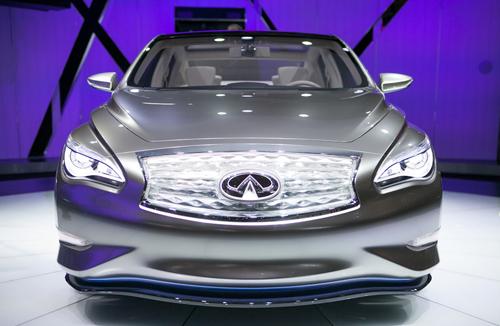 Infiniti's plug-in LE concept, unveiled Thursday at the New York International Auto Show, will hit dealerships within the next two years, and there's a good chance parent company Nissan will build it alongside the Leaf, which will begin rolling off the automaker's assembly plant in Smyrna, Tenn., in December.
Infiniti won't talk about assembly locations, but two spokesmen said Smyrna would seem to be a logical choice. That would make the LE the second Infiniti that Nissan builds in the U.S.; the JX crossover has been rolling off the Smyrna assembly plant since February.
Nissan CEO Carlos Ghosn spoke at a media roundtable Wednesday during the New York auto show. The exchange rate of Japan's yen against the dollar reached post-World War II highs last year, sapping profits from Nissan's Japan exports. It could prompt Nissan to move Infiniti production to North America.
Through March, Infiniti accounted for 8.1% of all Nissan sales in the U.S., a fraction comparable to competing luxury brands Acura (9.6% of Honda sales) and Lexus (10.1% of Toyota sales). Nissan builds Infiniti's lineup in Japan, but it doesn't market its luxury brand in Japan. Instead, it removes features — and emblems — to sell most cars under the Nissan banner.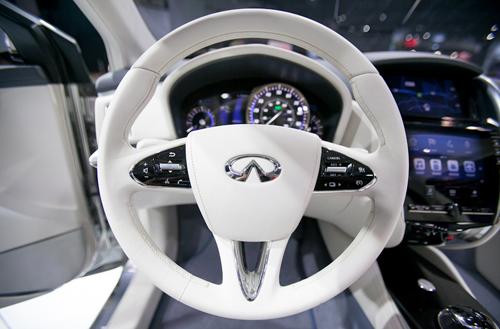 "You're going to be seeing soon some major Infiniti sourcing to be moving out of Japan in order to allow the brand to be, in a particular way, not dependent on the variation of one currency," Ghosn said.
He wouldn't elaborate on where Nissan plans to move production, but he named China, where Nissan expects to sell 1.2 million cars this year, along with the U.S. as Infiniti's major global markets. Nissan recently announced setting up Infiniti headquarters in Hong Kong.
"If you follow our logic, we should produce the cars where we sell them," Ghosn said. "North America is a potential base for Infiniti. ... We don't want to find ourselves in a situation where you're producing in a country with a strong currency and selling in a country where a currency is much weaker."
What will happen once Nissan starts cranking out Leafs in Tennessee? "The price of the Leaf will drop, [that's] one option," Ghosn said, chuckling. "Second option, the profit of the Leaf will go much higher."