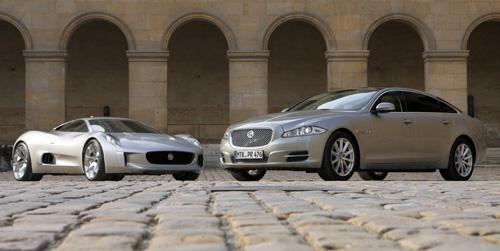 In a bid to offer a wider array of powerful, fuel-efficient gasoline engines, Jaguar will add two new engines and a new eight-speed transmission to its lineup.
In the U.S., Jaguar's V-8 lineup makes it the only volume luxury automaker that doesn't offer smaller displacement motors. That's about to change dramatically with the addition of turbocharged four-cylinder and supercharged V-6 engine options.
The new turbocharged 2.0-liter inline-four-cylinder produces 240 horsepower and will be mated to a new eight-speed automatic transmission. The engine is Ford's 2.0-liter EcoBoost powertrain that's found on the Ford Edge, Ford Explorer and the Land Rover Range Rover Evoque, for instance.
The new supercharged 3.0-liter V-6 is based on Jaguar's ubiquitous 5.0-liter V-8. The automaker says it will produce either 380 hp or 340 hp, depending on the application. The 3.0-liter V-6 will feature a new quad-cam design, all-aluminum construction, direct injection and variable valve timing, according to Jaguar. Mated to an eight-speed automatic transmission, the V-6 powertrain also will feature an auto start/stop system, which should boost fuel economy.
Today, all of Jaguar's U.S. engines are V-8s. In Europe, there's a 2.4-liter diesel four-cylinder and a 3.0-liter diesel V-6 offering in Europe and Asia.
The current gasoline 5.0-liter V-8 is also shared with Land Rover vehicles like the Range Rover and Range Rover Sport — a sister brand to Jaguar.
Both the four-cylinder and supercharged V-6 engines will show up in 2013 on the Jaguar F-Type roadster, according to the carmaker.