Recall Alert: 2011-12 Chevrolet Traverse, Buick Enclave and GMC Acadia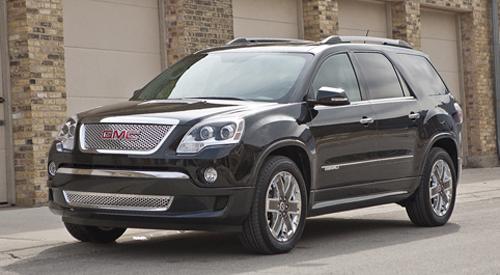 General Motors is recalling 50,001 model-year 2011 and 2012 versions of its midsize crossovers due to problems their windshield wiper arms, according to the National Highway Traffic Safety Administration.
The recall affects Chevrolet Traverse, Buick Enclave and GMC Acadia models registered in the following Snow Belt states: Connecticut, Delaware, Iowa, Illinois, Indiana, Kansas, Kentucky, Massachusetts, Maine, Maryland, Michigan, Minnesota, Missouri, Nebraska, New Hampshire, New Jersey, New York, North Dakota, Ohio, Pennsylvania, Rhode Island, South Dakota, Utah, Vermont, West Virginia, Wisconsin, Alaska and the District of Columbia. In these vehicles, snow or ice buildup on the windshield wipers restricts them and could loosen the arm, rendering it inoperable. This decreases visibility and increases the risk of a crash.
GM will notify owners starting April 16, and dealers will tighten the wiper arm nuts free of charge. Owners can call NHTSA's vehicle safety hotline at 888-327-4236 for more info.