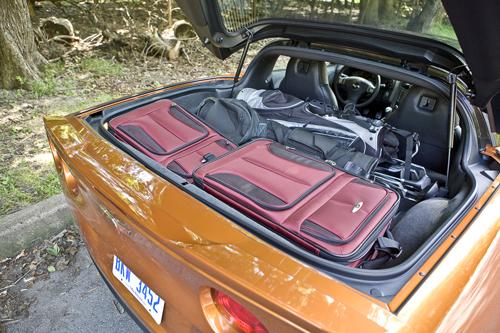 Cargo space isn't just nice to have for consumers; shoppers demand it. On a five-point scale of importance, 87 percent of Bankrate.com subscribers last year rated functionality or practicality as important factors in buying a car. Only one factor, vehicle price, ranked higher. Yet cars with more than 100 cubic feet of cargo space — fewer than 30 models — comprised just 10.1 percent of industry sales in 2011. Want generous cargo room in a car that fits your lifestyle? Take heart: Some models have a lot more usable space than their exteriors suggest.
Our editors looked at cargo specs across the entire 2012 market, surveying more than 300 models. We looked for cars with outsized cargo volume for their segments, but we also factored cockpit storage, the shape of the cargo area, practical innovations and more. From convertibles to pickup trucks, here are 10 cars with surprising utility, organized alphabetically.
Audi A4
Numbers don't always tell the whole story, and that's the case with the A4 entry-luxury sedan. The car's 12.4-cubic-foot trunk might not sound especially large, but its shape — a near perfect rectangle, with few intrusions — is ideal for hauling luggage. Plus, the available split-backseat can fold to reveal a huge opening into the cabin, which is great for carrying long items.
Chevrolet Corvette
Behind the Vette's front seats is 22.4 cubic feet of cargo space, double the space of most sports cars. We fit two sets of golf clubs in our test coupe (pictured at the top of this story), piled two roller suitcases behind and still had a clear view out back. Even the convertible shown above can handle two sets of clubs. Who would have thought a 430-horsepower sports car would have nearly the cargo space of a Nissan Leaf hatchback? Believe it.
Dodge Grand Caravan
Calling out a minivan for utility is like calling out a Burger King Triple Whopper for calories. But the Grand Caravan goes beyond its segment with Dodge's Stow 'n Go captain's chairs, which fold into floor wells to allow 140.6 cubic feet of maximum cargo volume. Leave the seats up, and the wells have vast compartments of hidden floor storage.
Honda CR-V
Not all small crossovers are created equal. Witness the CR-V, whose cargo area has 11 percent more maximum volume than the Chevrolet Equinox, despite the Honda being nearly 10 inches shorter. Folding the CR-V's seats couldn't be easier: pull a lever near the tailgate, and the seats flip forward. A covered center console can store a small shopping bag, too.
Honda Fit
Hatchbacks have a well-deserved reputation for versatility, but the Fit is an all-star among them. It offers 57.3 cubic feet of cargo room with the backseat folded — huge considering the Fit's tidy exterior dimensions. The Fit's secret weapon, though, are backseat cushions that can flip up to make carrying tall items behind the front seats easier.
Honda Ridgeline
From the day it was introduced, the Ridgeline was the thinking man's pickup — efficient and clever. Not only does it have a hidden, hefty, segment-only trunk with 8.5 cubic feet of drainable storage (and it holds the spare tire and a set of tools), but it also offers a dual-latch mechanism that allows owners to swing-out the tailgate (like an SUV) or drop it (like a traditional pickup).
Porsche Boxster
At face value, the Boxster's 9.9 cubic feet of combined trunk room is unremarkable. It falls roughly between rivals from BMW and Mercedes-Benz, after all. But the Porsche's dual trunks — one in back, one under of the hood — remain unhindered when you fold the Boxster's convertible soft-top down. Other droptops, including both German rivals, sacrifice big chunks of space.
Ram 1500/2500
Ram is the only pickup maker that offers the configurable RamBox: two sealed, lockable storage trunks on either side of the bed, as well as a bed with cargo slots. The Ram comes in two bed lengths — 5-foot-7 and 6-foot-4 — the latter with about 18 percent more storage volume and a longer, illuminated shelf with 8.6 cubic feet of space. Also, two insulated floor cubbies behind the front seats will hold food, drinks or tools.
Scion xB
Boxy styling is one of the xB's signature features, but the form also yields a lot of function. The xB offers 69.9 cubic feet of cargo room with the backseat folded. That closes in on the Toyota RAV4's respectable 73 cubic feet with the seats folded. The xB's squared-off shape makes that space as usable as possible. Well done, Scion, well done.
Volkswagen Beetle
The redesigned Beetle includes a flower vase no more. But it does have 15.4 cubic feet in the tall cargo area — the same as a Toyota Camry's trunk — and 29.9 cubic feet if you fold the backseat. Not bad for a car that's 7.1 inches shorter than a Honda Civic coupe. Swap the sunflowers for a suitcase; this Vee-Dub has room to spare.