What's the Most Affordable Compact Crossover?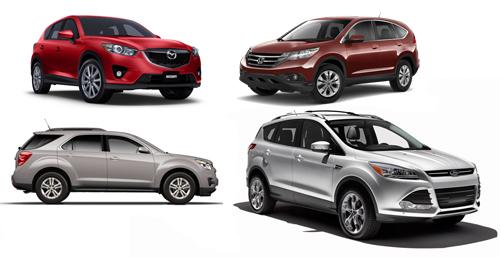 The compact-crossover class is exploding in popularity because of the mix of utility and affordability these types of vehicles deliver. Introduced in 1995, the Toyota RAV4 was the first car-based compact crossover available in this country, according to MotorWeek. It was followed soon after by the 1995 Honda CR-V. Since then, we've seen a flood of new models — more than 20 nameplates at last count — and today nearly one in every 10 vehicles sold is a compact crossover, according to J.D. Power and Associates.
The competition is only beginning to heat up, with new models like the 2013 Ford Escape, 2012 Honda CR-V and 2013 Mazda CX-5 introduced in the past few months. A significantly reengineered Nissan Rogue will soon be added to the mix, too. So which one is the most affordable?
To find out, we considered several features: fuel economy, equipment and final cost. For this comparison, these small crossovers needed to have the features listed below:
Bluetooth connectivity
Steering-wheel-mounted audio controls
Cruise control
Remote keyless entry
USB port and audio controls
Tilt/telescoping steering wheel
Automatic transmission
Roof rails
Our criteria knocked out models like the Jeep Compass and Suzuki Grand Vitara, which don't have a telescoping steering wheel. For the sake of clarity, we excluded models like the Mini Cooper Countryman, Nissan Juke and Mitsubishi Outlander Sport — we believe these boutique cars deserve their own category; we just haven't agreed on a name for it yet.
Instead, we pitted the recently launched 2013 Ford Escape against the 2013 Mazda CX-5, 2012 Honda CR-V and 2012 Chevrolet Equinox.
Compare the models side by side
---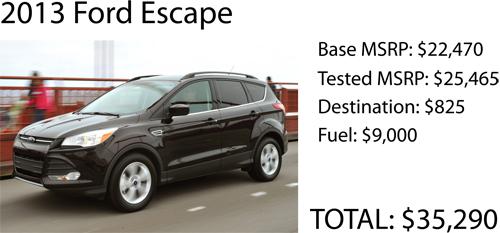 The 2013 Escape is the latest model to get a full redesign in the segment. Formerly the best-selling crossover in the country, the Escape is now No. 2 behind the CR-V. Still, the old model had a pretty good run; sales were up four years in a row and are up 5% so far in 2012, even though the current model is dated compared with its competition.
The 2013 Escape doesn't have a hybrid variant, so there are no longer any compact hybrid crossovers available in the U.S.
After our first drive, the Escape came off as a superbly engineered crossover with smooth acceleration, a handsome interior, excellent steering and a sporty, yet supple, ride, according to Cars.com Managing Editor David Thomas. Ford even managed to simplify its Sync multimedia system, using a more intuitive button layout and easier-to-read text, Thomas says.
Still, the sophisticated ride comes at a cost. The 2013 Escape starts on the high side of the class at $22,470, but it includes remote keyless entry, cruise control and steering-wheel controls. Although Bluetooth and a USB port are options on the base S trim, we upgraded to the better-equipped SE trim ($25,070) to get roof rails. The SE adds features such as automatic headlights and Sync, which comes with Bluetooth and a USB port. The SE trim also includes fog lamps, keypad entry system and 17-inch alloy wheels. The roof rails are part of Ford's Equipment Group 201A package, which includes two crossbars, a cargo tonneau cover, 110-volt outlet and a security system. The package is a $395 addition.
With the SE comes the Escape's most fuel-efficient powertrain option: The 178-horsepower, 1.6-liter EcoBoost four-cylinder is capable of 23/33/26 mpg city/highway/combined. This means you'd spend an estimated $9,000 in gas over four years, which is lower than a few crossovers on our list.
Add in destination, and you're looking at a total cost of $35,290 for features and four years of gasoline. That makes the new Escape nearly $2,000 more to own than the CR-V or the CX-5, and about $400 more than a comparable Equinox.
Even so, the new Escape is about $1,000 more affordable to own than the previous Escape, which consumed $1,200 more in fuel and had prices similar to the redesigned version.
Notable features
Automatic headlights
MyKey system
Driver's blind-spot mirror
Driver's knee airbag
Front-seat-mounted airbag
Ambient lighting
---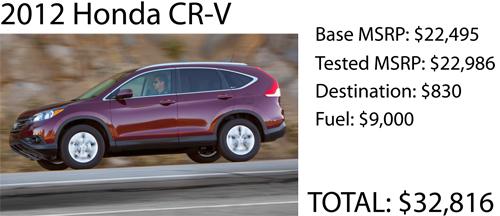 The 2012 CR-V is all new for the model year, and although it's been on sale only since December, it's exceedingly popular with car shoppers. The previous CR-V was already one of the most popular crossovers, and the new model continues the trend: So far this year, sales are up about 30% compared with 2011. March alone marked an all-time high for Honda's compact crossover, with nearly 31,000 sold. So far, it has reclaimed the spot of best-selling crossover from the Escape.
In our time driving the CR-V, we thought the redesign brought a level of sophistication not seen on the previous model, including some of the best passenger and cargo volume figures in the class.
The CR-V is available in many trims: LX, EX, EX-L, EX-L Navi and EX-L RES. The base model comes well equipped, and it includes a standard backup camera, Bluetooth phone connectivity with streaming audio, a 5-inch multimedia screen, USB input for MP3 players, access to Pandora internet radio and an SMS text-messaging function that reads aloud texts from a paired phone. Most of these features weren't even available last year, let alone standard on every model.
The 2012 CR-V's 185-hp four-cylinder provides plenty of power and achieves 23/31/26 mpg city/highway/combined, resulting in a four-year fuel cost of $9,000 (the second-lowest cost in a three-way tie with the Escape and Equinox).
All the features we need for this comparison are in the base LX trim, which starts at $22,495. Aluminum roof rails are a $491 option. Combined with destination and fuel costs, the total is $32,816, which makes the CR-V one of the most affordable crossovers available based on our criteria.
Notable features
Backup camera
5-inch multimedia screen
Bluetooth audio streaming
Driver's blind-spot mirror
---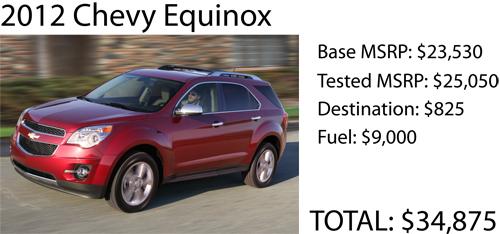 The Equinox won our last compact crossover Shootout, though that was against the last-generation CR-V and Escape.
The Equinox has a quiet, comfortable and compliant ride, though the cargo space is on the small side given the vehicle's size. Actually, the Equinox has less cargo room than the CX-5, CR-V and the new Escape. However, rear legroom in the Equinox is among the best in class, with its standard adjustable sliding rear bench seat.
The Equinox comes well equipped with standard 17-inch aluminum wheels, steering-wheel-mounted controls and Bluetooth connectivity.
To get all the features we're looking for (including the roof rails), we need to upgrade to the 1LT trim ($25,050), which adds an integrated driver-side blind spot mirror, heated mirrors, a backup camera and 7-inch color screen.
At 22/32/26 mpg, the Equinox is tied with the 2013 Escape and 2012 CR-V as the second-most fuel efficient in the category.
Features, destination and fuel costs total $34,875, giving the Equinox average affordability compared with others in this comparison.
Notable features
Automatic headlights
17-inch aluminum wheels
Driver-side blind spot mirror
7-inch color display
Backup camera
---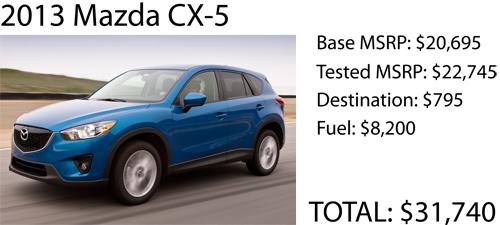 After Ford dissolved its stake in Mazda, both automakers have divided and started to develop their vehicles separately. The 2013 Escape and CX-5 mark the beginning of that rift. Unlike the Mazda Tribute, a Ford Escape clone, the CX-5 compact SUV that takes its place has no Ford roots, according to Cars.com Industry Analyst Kelsey Mays.
The CX-5 offers great versatility and sporty handling, but it may not be a good fit for tall drivers, according to Mays. Despite being the lightest crossover in this group — it's nearly 500 pounds lighter than the Equinox — the CX-5's 155-hp four-cylinder is still pretty slow. The pokiness has its benefits, though: At 26/32/29 mpg, the CX-5 is the most fuel-efficient crossover on the market, consuming just $8,200 worth of gas after 60,000 miles over four years.
The base CX-5 offers some neat features at $20,695, including 17-inch aluminum wheels, a USB port, steering-wheel controls, push-button start and cruise control. An automatic transmission and Bluetooth add $1,800, and you also get features like HD radio and a 5.8-inch color display for $22,495. Roof rails are a $249.95 dealer accessory.
The difference between the model we configured and the Touring Package includes the addition of a leather-wrapped steering wheel, tinted rear glass, upgraded cloth upholstery, backup camera, a blind spot monitoring system, fog lamps and a six-way adjustable driver's seat with lumbar support. Truthfully, that all sounds worth the extra $909.
Add it all up, and the CX-5 is our most affordable crossover in this comparison at $31,740.
Notable features
Push-button start
17-inch aluminum wheels
5.8-inch color screen
---
Compact-Crossover Shopping Tips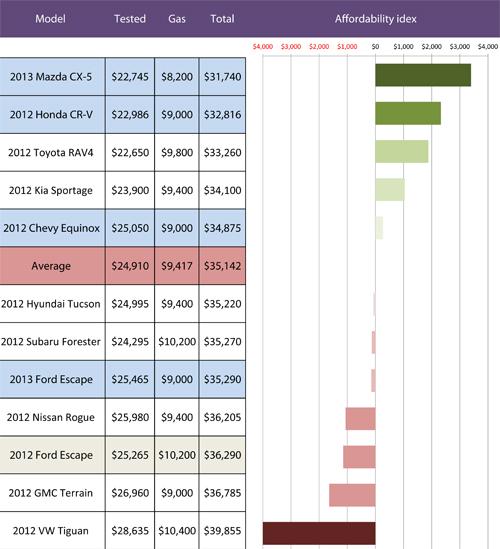 For how popular the Escape has been the past few years, it's surprising to see just how expensive it has become. The previous generation was also one of the most expensive models. Only a few cost more, like the GMC Terrain and Volkswagen Tiguan. Those brands are viewed as more premium by consumers, too.
What's equally surprising is the affordability of America's best-selling crossover — the 2012 Honda CR-V — and how well equipped it is compared with its competitors. There is no longer a premium to buying a Honda in this class.
The CX-5, the only model not currently a heavyweight in the segment, is understandably priced lower as a way to help bring in new buyers. So far, Mazda hasn't found much success with crossover buyers in the past. Maybe the CX-5's rock-bottom price and superior mileage will change that.
*Based on 45% highway, 55% city driving, 15,000 annual miles and current fuel prices. $3.92 a gallon for regular gasoline, and $4.35 a gallon for premium on the Volkswagen Tiguan.