What's Under Nissan's Sheets?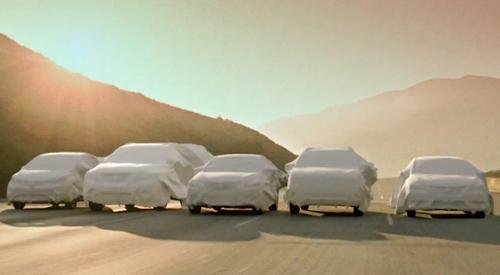 Nissan is advertising that it plans to debut five all-new models in the next 15 months, giving consumers a glimpse of its future by showing vehicles hidden under sheets in TV ads and on billboards. So, what's under there?
Starting at the left is the Versa hatchback; its sedan sibling was unveiled last year so an updated hatchback seemed sure to follow. The hulking vehicle next to it has to be the new Pathfinder. There's no surprise there: The concept unveiled in Detroit was virtually production-ready. It forecasts the end of the Pathfinder's traditional body-on-frame architecture as well as some of its boxy, truck-like exterior styling cues. In its place are the curvy, fluid lines of a crossover. The 2013 Nissan Pathfinder goes on sale this fall.
In the middle is the new Altima, which recently met the public at the New York auto show. Nissan's midsize sedan gets a new four-cylinder engine, automatic transmission, chassis, suspension and interior and goes on sale this summer.
A revised Rogue looks to be on Altima's right. Nissan unveiled the compact Hi-Cross Concept crossover at the Geneva auto show, and that likely forecasts the next Rogue. Lastly, we think the next Sentra is hiding under the sheet at the end. We expect it to match Altima's new front styling.
Nissan is mum about which vehicle will debut next, but we expect to see the Versa, Rogue or Sentra on next year's auto show circuit.