2012 Chrysler 300S: Car Seat Check
For 2012, Chrysler introduced a new S trim to the 300 lineup. The 300S is a full-size sedan with a V-6 or V-8 engine and an eight-speed automatic transmission. On the inside, it seats five in sport seats and has a standard Beats by Dr. Dre stereo, which is sure to impress the teen set.
For the Car Seat Check, we use a Graco SnugRide 30 rear-facing infant-safety seat, a Britax Roundabout convertible child-safety seat and Graco high-back TurboBooster seat.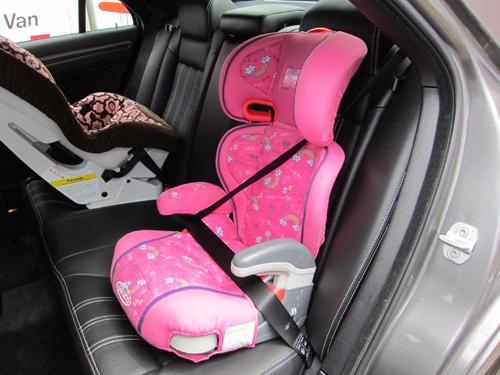 The front seats are adjusted to a comfortable position for a 6-foot driver and a 5-foot-8 passenger. The three child seats are installed in the second row. The booster seat sits behind the driver's seat, and the infant seat and convertible seats are installed behind the passenger seat. We also install the infant seat in the second row's middle seat with the booster and convertible in the outboard seats to see if three car seats will fit. If there's a third row, we install the booster seat and a forward-facing convertible.
Here's how the 300S did in Cars.com's Car Seat Check:
Latch system: The 300S has two sets of lower Latch anchors in the outboard seats. We had a tough time connecting to these anchors with rigid Latch connectors because the seat cushions are stiff and don't move out of the way. Three tether anchors are found on the rear shelf behind the backseat's head restraints. The head restraints are fixed, making it difficult to get at the tether anchors.
Booster seat: The sport seats in the 300S have large side bolsters that pushed our high-back booster seat to one side, flush against the seat belt buckle. The buckle is recessed in the seat cushion, but not so low that the booster seat ran over it.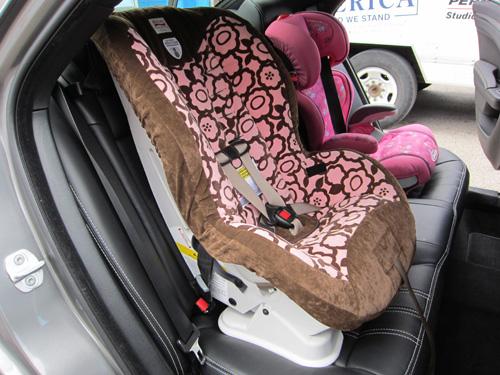 Convertible seat: Though it was difficult to connect the convertible seat's rigid Latch connector to the 300S's anchors, the forward-facing car seat fit well once it was installed. To fit the rear-facing convertible, we had to move the front passenger seat forward an inch or so. The front passenger still had plenty of legroom.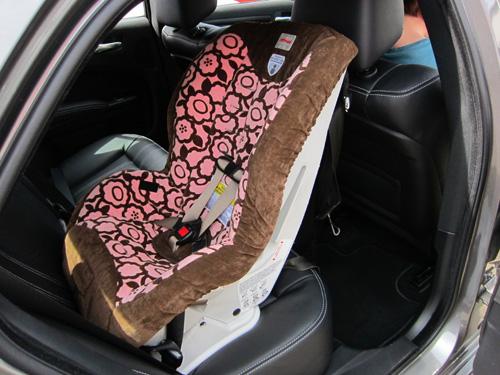 Infant-safety seat: The 300S's Latch anchors were easier to use with this car seat's hooklike Latch connectors. We had to move the front passenger seat forward a bit to get this rear-facing car seat to fit. The front passenger still had enough legroom.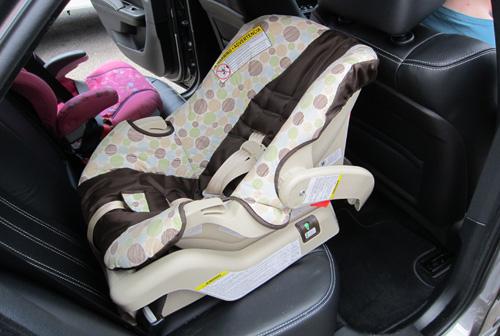 How many car seats fit in the second row? Two
Editor's note: For three car seats — infant-safety seat, convertible and booster seats — to fit in a car, our criterion is that a child sitting in the booster seat must be able to reach the seat belt buckle. Parents should also remember that they can use the Latch system or a seat belt to install a car seat.
Related
Research the 2012 Chrysler 300S
Check out More Car Seat Checks