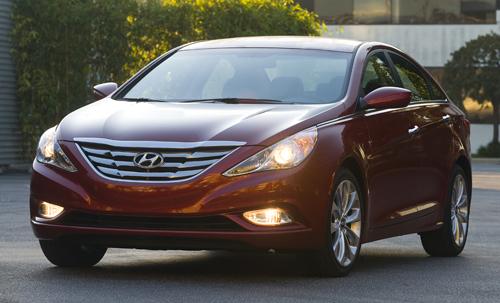 For the new model year, Hyundai adds more available features to Sonata's base trim level. Most prices increase by $100 to $150 or more per trim for 2013.
All 2013 Sonatas now come standard with a six-speed automatic transmission; the manual-transmission GLS is no longer available. Without the manual transmission, all Sonatas now get 24/35 mpg city/highway.
The Popular Equipment Package on the GLS now costs $825 and includes features like fog lights and heated seats, for a total cost of $21,720.
The SE trim now comes standard with heated front seats, and the Limited trim no longer comes with a panoramic sunroof. Instead, it gets a regular sunroof. The Limited trim is $600 less expensive this year because of the change. If you still want a panoramic sunroof, it's been added to a $2,900 Limited Premium Package. Ultimately, a 2013 Hyundai Sonata tops out at $31,270, which is just $100 more than last year's model.
The 2013 Hyundai Sonata is already on sale. Continue reading below for more pricing details.
---
2013 pricing (2012 pricing)
GLS — manual: Discontinued ($19,795)
GLS — automatic: $20,895 ($20,795)
SE: $23,345 ($23,195)
SE Turbo: $24,895 ($24,745)
Limited: $25,845 ($26,445)
Limited Turbo: $27,595 ($28,195)
Destination fee: $775 ($775)
---
Related
New Hyundai Sonata Coming in 2014
2012 Hyundai Sonata Hybrid Gets Lifetime Battery Warranty
What's the Most Affordable Midsize Sedan?