With Spring in Full Force, Beware of Woodland Neighbors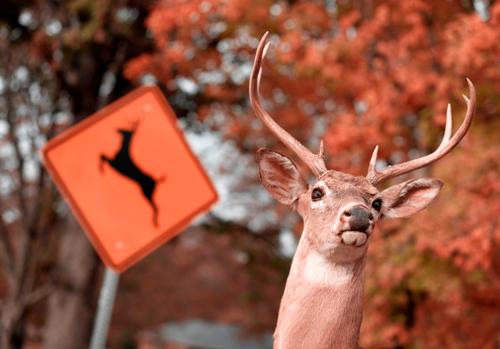 A mild winter followed by early spring-like weather have provided many benefits, including a supposed bump in U.S. economic activity, but it's not all good news for motorists. An early spring will likely increase car-on-wildlife collisions, according to the Chicago Tribune.
Woodland creatures are more active in warmer weather, and accidents with animals — particularly deer — are a common cause of accidents in the U.S., where one out of every 17 collisions involves hapless wildlife, according to dmv.org. Some 200 motorists die each year in accidents involving wildlife, the group reports.
To reduce your chances of an accident with a woodland animal, the Tribune offers the following tips:
Be mindful of deer crossing signs.
Obey speed limit signs, and honk your horn if you see a deer in your path.
Don't flash your lights because that might cause the animal to fixate on your moving vehicle, like a deer caught in…. well you get the picture.
If a collision with a deer or other large animal is unavoidable, apply the brakes firmly and don't swerve. Swerving usually increases the risks of losing control or causing a head-on collision with another vehicle. Hitting the animal at a reduced speed is safer (from the driver's perspective, at least).
Throughout the day, motorists are most susceptible to accidents with wildlife from sunset to midnight and shortly before sunrise, the Tribune reports. The month with the worst average record of wildlife-related car accidents is November, says the Tribune.
Watch for wildlife when driving in warmer weather (Chicago Tribune)