Can the Toyota Prius c Compete With Econoboxes?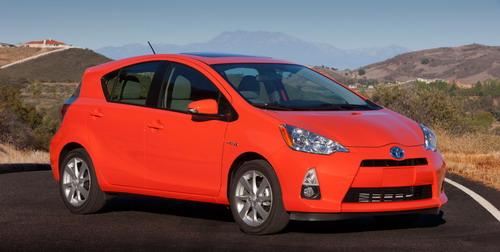 The Toyota Prius c kicked off sales in mid-March at
a blistering pace
, selling 1,201 cars in just three days. By contrast, it took Toyota all month to sell as many Scion iQ minicars. April marked the Prius c's first full month of sales, and we expected big results.
It turns out Toyota delivered a modest 4,006 units of the sub-$19,000 hatchback. The Prius v added another 3,847 sales to the nameplate in April, while the Prius Plug-in found 1,654 shoppers.
The Prius Plug-in outsold the Chevy Volt despite a veritable pittance of hype about its release compared with the blitz surrounding the Volt. The similarly hyped Nissan Leaf managed sales of just 370 units.
So if a plug-in version of the Prius can leapfrog its competition — albeit a small field — can the Prius c compete against traditional economy cars?
If April is any indication, it's unlikely, but with a starting price and fuel economy figures that make it affordable
in the long run
, there's a small chance. Consider how the Prius c stacks up among last month's entry-level sellers today.
April 2012 Sales: Entry-Level Cars
• Kia Soul: 10,716
• Nissan Versa: 8,335
• Chevrolet Sonic: 6,387
• Hyundai Accent: 6,160
• Ford Fiesta: 5,135
• Toyota Yaris: 4,274
• Kia Rio: 4,006
• Toyota Prius c: 4,006
• Fiat 500: 3,849
• Honda Fit: 3,202
A handful of bit players — the Scion xB, xD and iQ, the Nissan Cube, the Smart ForTwo — sold fewer than 2,000 units apiece. The Prius c beat those, but Toyota dealers will need to crank up supply for shoppers to start biting. Cars.com's new-car inventory has just 927 examples nationally, versus 7,721 regular Prius models.
Perhaps as gas prices continue plateauing at higher prices each year like they have in the recent past, a 50 mpg Prius c may seem more attractive to shoppers than cars with lower figures on the window sticker. If the original Prius became a best-seller as an alternative to midsize sedans, it's possible the Prius c could do the same to subcompacts.