Daily News Briefs: May 7, 2012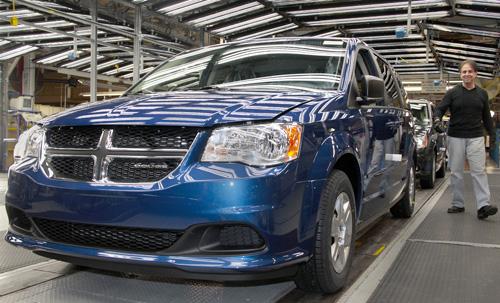 Here's what we have our eye on today:
There's growing evidence that the Dodge Grand Caravan is on the chopping block, according to sources speaking with Automotive News. Although Chrysler maintains strong leadership in the minivan arena, controlling about 40% of the segment, the automaker is debating whether to focus on just one minivan and develop another small crossover or SUV instead of a derivative minivan. Chrysler told Margaret Zewatsky, a product manager for R.L. Polk & Co., that the 2012 model year would be the Grand Caravan's last. UPDATE: There will be no changes to the Dodge Grand Caravan's status until at least the 2014 model year, according to Patrick Hespen, a Chrysler spokesman. Right now, the company aims to sell the Chrysler Town & Country for more than $30,000 and the Grand Caravan for less than that. If the automaker decides to have just one minivan, it would need to complement both price segments, according to Automotive News. We should see a new minivan, similar to the Chrysler 700c concept, sometime in 2013, says the trade publication.
Portable navigation maker TomTom wants to become an available option on more car models as opposed to just an accessory, according to Ward's Automotive. The company provides an in-dash navigation system for the 2013 Mazda CX-5 crossover (part of the Technology Package, which costs about $1,255 on select trims). TomTom also provides navigation options in the Fiat 500 and Toyota 4Runner, and its map content has been licensed for use in North American BMW vehicles, Ward's says. The company is also negotiating with Mazda to provide navigation units to all next-generation Mazda models, the publication reports. One way TomTom aims to forge more partnerships is through its celebrity voice guidance feature, which includes the voices of Snoop Dogg, Homer Simpson and Darth Vader. This feature can be purchased for a nominal fee in addition to the navigation unit.
Mazda North American Operations will lose 107 employees in California, according to Automotive News. The employees accepted voluntary buyouts — which includes a separation payment, a lump-sum payment and job location assistance — and they make up about 15% of the 700 employees at Mazda's U.S. headquarters. The job cuts are part of Mazda's ongoing restructuring process to shore up its operations in North America and abroad amid growing losses. Mazda lost $505 million in North America in the last fiscal year and $397 million the year before that. The Japanese carmaker lost $1.3 billion altogether last fiscal year, according to the trade publication.