Incentives Diet: Buy This, Not That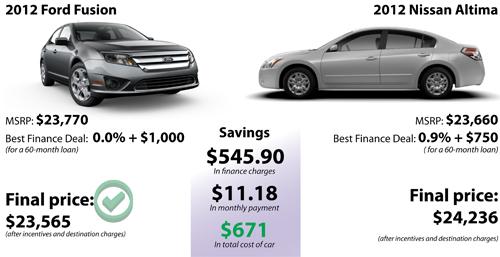 In this latest round of Buy This, Not That, we focus on soon-to-be-discontinued midsize luxury and mainstream sedans. Included in this rundown are the Ford Fusion, Nissan Altima, Lexus ES, Lincoln MKZ, Dodge Avenger and Mitsubishi Galant. All are on death's door in their current incarnations.
All the trim levels picked for these comparisons include an automatic transmission, air conditioning, keyless entry, cruise control, Bluetooth connectivity and power locks/windows/side mirrors. Final prices include destination charges.
2012 Ford Fusion vs. 2012 Nissan Altima
The Fusion and Altima are among the best-selling sedans in the country. Both have reached the end under their current designs; the redesigned 2013 Nissan Altima goes on sale in July, and the new 2013 Ford Fusion follows in the fall.
Because of the impending end of their production, both models have fairly generous incentives. The Fusion gets either $2,500 cash back or 0% financing plus $1,000 cash back. Depending on the region and if you are trading in a vehicle or are an owner of a specific competitor to Ford, you could get even more dough back. The Altima gets either $2,250 cash back or 0.9% financing and $750 cash back.
The financing route is the best way for both models. To get the features we're looking for on the Fusion, we opted for an SE model and added Sync; our total was $23,770 before the destination charge and incentives. Some of the Fusion SE features included alloy wheels, power driver's seat and automatic headlights. Take $1,000 off with 0% financing and you're looking at a total of $23,565 for the Ford.
The Altima 2.5 S with a 20th Anniversary Package gets Bluetooth connectivity in addition to alloy wheels, fog lights, steering-wheel-mounted controls and a leather-wrapped steering wheel for $23,660, which is less than the Fusion. Take off another $750 but factor in $546 in interest payments and the Altima cost $671 more than the Fusion.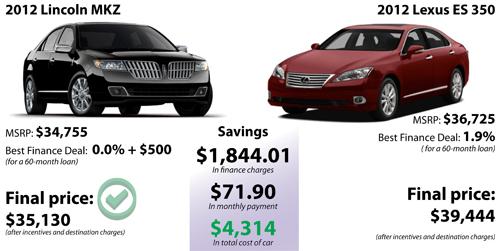 The once uber-popular Lexus ES has lost its luster in recent years. The automaker is trying to make up for it with a sporty-looking replacement vehicle, which is due to go on sale later this year. Despite a rich assortment of standard features and a no-cost hybrid option, the Lincoln MKZ has never been a strong seller. Its replacement is due later this year and will be a fairly radical-looking redesign featuring a gee-whiz retractable glass roof.
Like the 2012 Ford Fusion on which it is based, the 2012 Lincoln MKZ features fairly generous incentives as it exits stage right; there's either $2,500 cash back or 0% financing plus $500 cash back. Like the Fusion, incentives are better on the MKZ depending on the region and what options you choose. A base MKZ comes well-equipped with heated and cooled front seats, real wood trim, leather upholstery and a powerful V-6 or fuel-efficient hybrid powertrain for $34,755. Opt for the financing and you're looking at a total of $35,130 for the Lincoln.
The 2012 Lexus ES 350 doesn't have as generous of offerings; there's just 1.9% financing. A base Lexus ES 350 has features like push-button start, passive keyless entry, automatic climate control and leather upholstery for $36,725. Financing tacks on another $1,844 for a total of $39,444 for the Lexus, including a destination charge.
That means you could save $4,314 if you choose the Lincoln over the Lexus.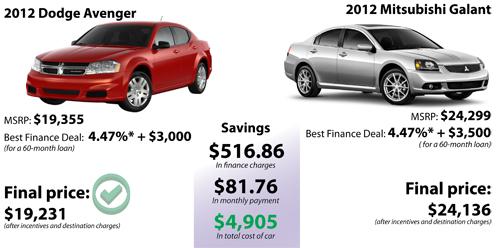 The Mitsubishi Galant sedan will be killed off in 2012. The small Japanese carmaker plans to focus on compact cars, SUVs and electric vehicles. It hasn't announced a midsize sedan replacement. While Chrysler is actively (and publicly) planning a future for its midsize Chrysler 200, the company is mum on the Dodge Avenger's fate. We don't think the Avenger — at least as a midsize sedan — has a future once the new Chrysler 200 comes out in 2013.
Even though both the Galant and Avenger are fairly mediocre for the category, each vehicle's strength is in its laundry list of standard features … and steep discounts.
The Galant midsize sedan is offered only with four-cylinder power. We had to opt for a top-of-the-line SE model to get Bluetooth. At $24,299, it comes well-equipped with navigation, a backup camera, power moonroof, 18-inch alloy wheels, heated front seats and a 650-watt stereo system. The Galant is offered with either 0% financing or $3,500 cash back. If you have good or average credit, it's better to go with the cash-back offer. Using an average interest rate of 4.47%*, a Galant costs $24,137.
The Dodge Avenger got a much-needed interior update and revised suspension for the 2011 model year. The Avenger's bevy of standard features — including keyless entry, a security system and steering-wheel-mounted controls — means we can opt for the base Express trim ($18,995) and add Uconnect for Bluetooth connectivity (which also includes Bluetooth audio streaming, a USB port and auto-dimming rearview mirror) for $360, for a total price of $19,355. Opting for the $3,000 cash back and the same financing rate* as the Galant means the Avenger costs $19,231.
All in all, the Dodge Avenger is $4,905 less expensive than the Mitsubishi Galant as optioned. Keep in mind, however, that the Galant also is a great value, given its rich assortment of features.
*All final pricing includes destination fees. Finance rate based off national average, week of May 10.
Related
More Incentive News
Find the Right New Luxury Car
Find the Right New Sedan