Why Your Neighbors Will Hate the Fiat 500 Abarth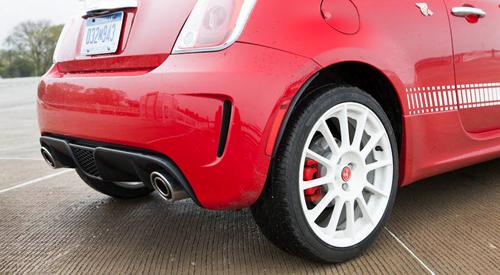 In the search for power and a nice exhaust sound, I've installed aftermarket exhausts on my cars that attracted unwanted attention. My neighbors tipped off the police, leaving me with a $75 noise violation ticket. Thanks again, jerks. Fiat's turbocharged, 160-horsepower 500 Abarth may not be as rowdy as my Trans Am, but its loud exhaust has enough volume that I'm being extra nice to the neighbors this week.
A few of our editors noted the exhaust's tone isn't particularly pleasant sounding, either. Comparisons ranged from a rusty Honda Civic with an unnecessarily large chrome muffler, to a diesel truck because the turbocharger's whistling howls through the exhaust.
The exhaust pops, spits and gargles. One extra-loud pop caught me off guard, and I ducked in the driver's seat. I took a friend for a ride who previously owned a Dodge SRT4 – you know, the Neon – and he was super excited because the exhaust sounded almost identical his old car. The SRT4 came from the factory sans mufflers; the Fiat has a similar low-pitched rumble.

The Abarth's muffler is designed for minimal exhaust gas restriction and maximum power — in other words, it's loud. Even from the factory, loud exhausts aren't uncommon for sports cars. Cars like the Audi TT RS and the Chevrolet Corvette have available exhaust systems that can change the tone and volume through mechanical valves and flaps triggered by a Sport mode or specified engine load. The result is quiet at low speeds and cruising, and loud when the skinny pedal goes down.

The difference here is the 500 Abarth is loud all the time. The exhaust does quiet down at highway speeds, however, and it doesn't cause a lot of drone cruising at 60 mph, which is common of many aftermarket systems or straight pipes. It doesn't sound nearly as offensive at wide open throttle as it does starting up or cruising through a parking lot.

Even so, you'll be heard before you're seen driving the 500 Abarth. Get the baked goods and casseroles ready for the neighbors.

Related
2012 Fiat 500 Abarth Review
More Videos on Cars.com
More Automotive News on Cars.com