2013 Audi Allroad: First Drive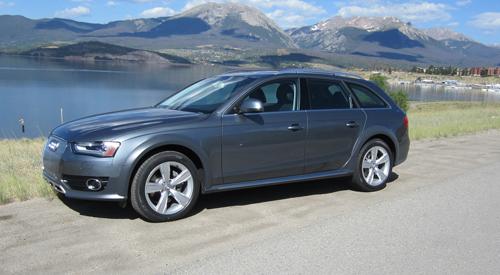 Audi's main goal for 2013 is to "evoke an emotional response through their product lineup," said Scott Keogh, Audi of America president. While I understand how vehicles like the R8, A7 and S5 do this, how does Audi plan to do it with its family wagon, the new
2013 Allroad
?
The mere act of bringing back a car that was loved and coveted amongst the high-income suburban-family set from 2001 to 2005 is supposed to evoke fond memories. While I enjoyed my first drive in the Allroad immensely (I'm a wagon girl at heart), seeing the sleek S5 glaring at me in the rearview mirror with its new guyliner-inspired tube-optic LED daytime running lights made me a little angry. I don't think that's the emotion Audi's going for.
Sure, the Allroad has those same smoldering daytime running lights, but there's a reason Christian Grey didn't buy Anastasia Steele an Allroad in "50 Shades of Grey." It's just not that sexy. It looks a little like me at the moment, dressed functionally in yoga clothes while working from my home office with kiddos hanging around in the background. Why is it that the moment you have a family your options for family cars all look like they're wearing stretched-out velour sweats? What I need is automotive glamoflage: a car that I can jump in regardless of how hectic my morning has been and look and feel put together merely as a result of the stylized metal encasing me. Are you listening, Audi?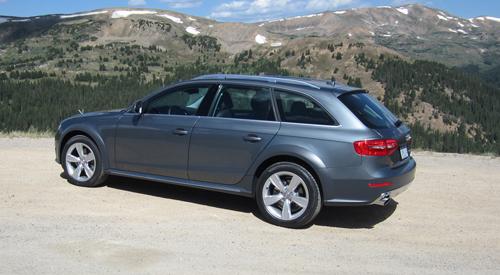 Soccer-mom style notwithstanding, the Allroad offers small families some great advantages. Doing away with the A4 Avant, the Allroad increases its ground clearance by more than an inch to a total of 7.1 inches. Combined with Audi's Quattro all-wheel drive and an off-road electronic stability system, the Allroad becomes what Audi refers to as an "urban-assault vehicle."
I drove the Allroad over the Continental Divide, reaching above 12,000 feet in elevation, and was impressed with the engine's ability to maintain its motivation. When gunning it to pass trucks on the mountain passes, the Allroad's 211-horsepower, turbocharged 2.0-liter four-cylinder engine responded quietly rather than moaning and groaning in an overt display of displeasure and overexertion. I appreciated the ability to switch the Allroad into manual mode and downshift to hold my speed while coming down the pass.
While steering may feel a little light for enthusiasts, the Allroad will read as easy and effortless for the average consumer. The Allroad's 37.7-foot turning circle will contribute to ease of use in the city as well as parking lots or carpool lanes.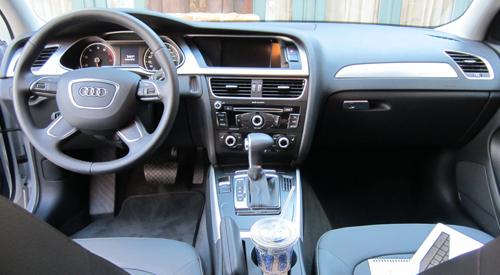 Inside, the Allroad does have a few ergonomic challenges for families. The tilt/telescoping steering wheel is a help for drivers; however, as it telescoped toward me it angled upward, causing my ultimate wheel position to be a too raised for my comfort (despite adjusting the driver's seat height). Also, the sun visor doesn't have an extender or slide out on its pivoting bar, so it ends up offering the bare minimum protection. Be sure to wear your oversized Jackie O's when driving it.
Technology has been upgraded significantly on the Allroad with the addition of the new Audi Connect system. This offers a rolling Wi-Fi hotspot (so kids can go online to work on their homework on the way home from school), a new Google maps database overlays Google satellite images with the current ones in the DVD database, street-view images in cities, as well as weather, traffic, gas prices, travel info and news. Mark Dahncke, Audi product communications manager and dad of five young kids, uses Google Earth via Audi Connect to help him find soccer fields for away games and Google search to locate nearby water slides on hot summer days. He also appreciates the ability for kids to use the in-car Wi-Fi to stream their own music and play video games with friends.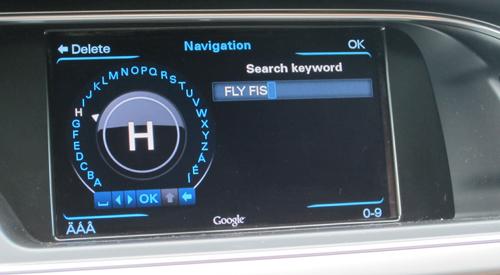 From a safety perspective, the Allroad's enhanced adaptive cruise control detects stationary objects and stops the vehicle completely if travelling less than 19 mph.
For backseat passengers, the narrow center seating position combined with a large hump in second row's floor might make this more of a four-passenger car than a five-passenger one Audi claims it to be. I'll have to evaluate this further at a later date when driving the Allroad with my three kids in tow. Plastic covers conceal lower Latch anchors in the outboard seating positions. The covers pop off, offering easy access to the anchors when installing child-safety seats.
I look forward to more time in the Allroad with my family in tow to test how well it functions in the real world. I'll save the "Grey"-inspired date night for when I'm driving an R8.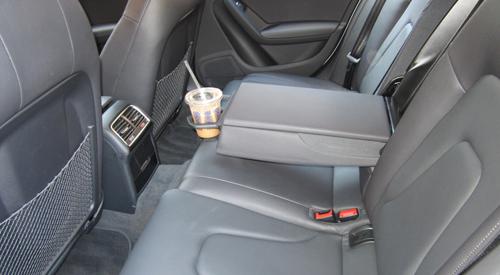 Related
Research the 2013 Audi Allroad
More Family News on Cars.com
More Audi News on Cars.com