2013 Kia Sorento: What's Changed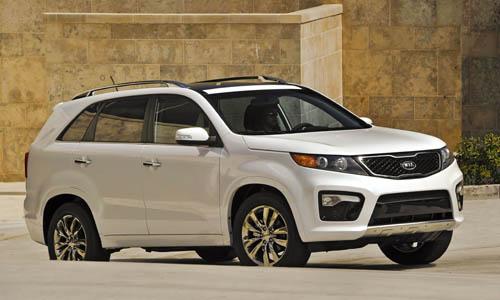 Most significant changes: Newly standard are leather seats in EX models and a third-row bench in LX V-6 versions. The SX trim loses its standard third row.
Price change: Varies by trim level — some stay the same, increase modestly and even decrease for 2013.
On sale: Now
Which should you buy, 2012 or 2013? It largely depends on which trim level you're interested in and the incentives available. If you're interested in leather seats, incentives on a 2012 model with optional leather may be higher than on a 2013, making the 2012 a better deal.
Kia's popular compact crossover gets more standard and optional equipment for model-year 2013. Prices for the base four-cylinder Sorento LX model stay the same and other models see modest price increases and decreases for the new year.
The Sorento's LX, EX and SX trim lineup returns for 2013, as do 3.5-liter V-6 and 2.4-liter four-cylinder powertrains matched with a six-speed automatic transmission. Outside, only a revised Kia badge on the hood and left gate mark 2013 models.

In terms of equipment changes, leather seating trim is now standard on EX models and a third-row bench is also standard on LX V-6 trims; it's newly optional on EX V-6 and SX models. A third row was previously standard on SX models. Other new options include wider availability of Kia's UVO communication and entertainment system and a new LX Convenience Package, which features an eight-way power driver's seat, leather-wrapped steering wheel and shift knob, floormats and a first-aid kit.
The equipment shake-up has affected prices for several trims: The Sorento LX V-6 models see a $750 price increase; EX four-cylinder versions are up $1,000, but V-6 prices carry over unchanged. The Sorento SX, which is only available with a V-6, sees the biggest price change: it's decreased $1,450 for 2013.
The 2013 Kia Sorento is on sale now. According to Cars.com inventory, there are twice as many 2103 models on dealer lots as 2012s, so finding a model-year 2012 version may start to get tricky.
Model-year 2013 pricing is below with 2012 pricing in parenthesis; all figures include an $800 destination fee.
LX, four-cylinder FWD: $23,950 ($23,950)
LX, four-cylinder AWD: $26,150 ($26,150)
LX, V-6 FWD: $26,500 ($25,750)
LX, V-6 AWD: $28,200 ($27,450)
EX, four-cylinder FWD: $27,750 ($26,750)
EX, four-cylinder AWD: $29,450 ($28,450)
EX, V-6 FWD: $28,750 ($28,750)
EX V-6 AWD: $30,450 ($30,450)
SX, FWD: $32,500 ($33,950)
SX, AWD: $34,200 ($35,650)
Related
Research the 2012 Kia Sorento
Research the 2013 Kia Sorento
More Kia News on Cars.com