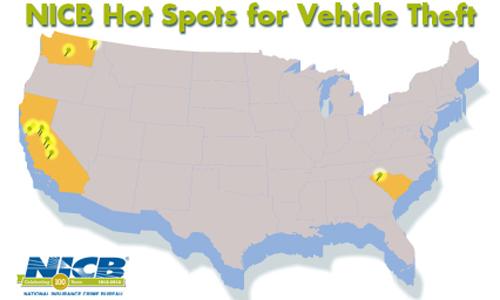 Motorists in the Golden State, beware: Several California cities top the list of stolen-vehicle hot spots in 2011.
Forbes compiles the list each year using data from the National Insurance Crime Bureau. The crime-prevention organization uses a formula that calculates the number of thefts per 100,000 people. Seven out of the 10 cities listed are in California, and Fresno has been on top since 2008.
"California has dominated the list for years. There are simply many more vehicles there than in any other state, and way more people," Frank Scafidi, director of public affairs at NICB, told Forbes. With that combination, you see more vehicle thefts, he said.
NICB recommends adopting common-sense measures, such as ensuring the car doors are locked and parking in a well-lit area. Warning devices, such as audible alarms and steering-column collars, also help. The organization also recommends devices that prevent thieves from bypassing the ignition, like kill switches and ignition and fuel-pump disablers.
NICB encourages people with information regarding vehicle theft to call 800-TEL-NICB (800-835-6422) or visit www.nicb.org.
The top 10 cities with the most stolen vehicles in 2011 are below:
1. Fresno, Calif.
2. Modesto, Calif.
3. Bakersfield-Delano, Calif.
4. Spokane, Wash.
5. Yakima, Wash.
6. San Francisco/Oakland/Fremont, Calif.
7. Stockton, Calif.
8. Anderson, S.C.
9. Vallejo-Fairfield, Calif.
10. Visalia-Porterville, Calif.
Related
The Cities With The Most Stolen Cars (Forbes)
Cadillac Escalade Tops Most-Stolen List, Again
More Automotive News on Cars.com