Car Storage Wars: Inventive Places to Stash Your Stuff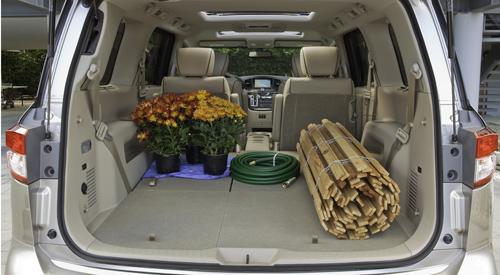 Admitting you have a problem is the first step toward recovery: Hi, my name is Jennifer and I have a lot of stuff. Luckily, so does much of the auto-buying public, forcing automakers to get creative about car storage. A few years ago we saw a console bin that could fit a laptop; now that's almost commonplace.
But carmakers continue to get clever with storage spaces, thoughtfully carving out areas, both small and large, to hold — and better yet, conceal — our ever increasing amount of stuff.
Nothing can touch well-known storage kings like Chrysler's minivans with 140.6 cubic feet of cargo volume once the Stow 'n Go seats are folded. That's why I wanted to look at vehicles with storage places that range from inventive (hidden in-seat cubbies) to excessive (10-plus cupholders).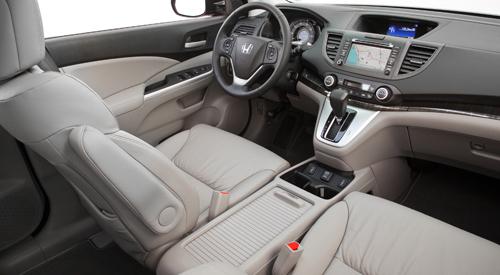 Honda CR-V: The 2011 Honda CR-V had a huge center console, but only on higher trim levels. Honda made it standard across the CR-V lineup for 2012. The gigantic 10.8-liter console bin easily held my large purse. It can also hold a laptop; a sliding cover keeps it hidden. Smaller cubbies on the side of the console are an added bonus and good for holding smaller items.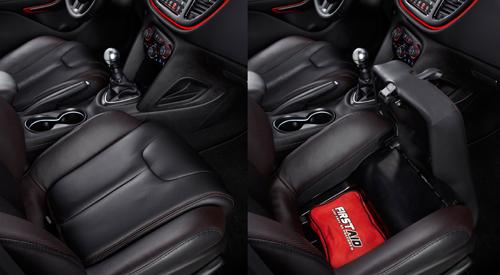 Dodge Dart: In most compact cars, small item storage is usually limited to the glove box and a center console. The Dodge Dart features a bonus cubby in the passenger seat. The bottom cushion flips up to reveal a plastic-lined, 203-cubic-inch bin ideal for maps and CDs, if you still use either of those. There are also small pockets in the center console for smaller items like phones and pens.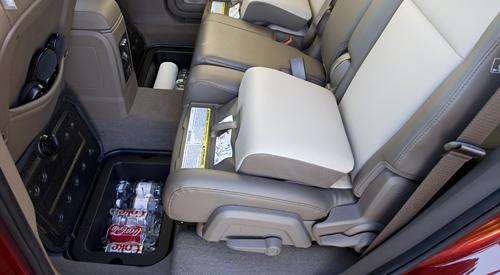 Dodge Journey: This midsize crossover has the market cornered in terms of hidden storage spaces. Like the Dart, the passenger seat cushion flips up to reveal a hidden storage hold that measures 10.75 inches by 8.75 inches. According to Dodge, the bin is large enough to store a purse, umbrella, camera, planner or headphones. Also hidden are two under-floor storage compartments in the second row. They have latching lids and removable, washable liners for easy draining and cleaning. Dodge says that combined, they can hold 12 beverage cans. Lastly, the largest hidden storage compartment is behind the last row of seats. In five-passenger models, the standard bin is huge, comprising most of the available load floor. Seven-passenger models have a smaller bin behind the third row. Bonus: The load floor is reversible with a carpeted side and a hard-plastic side, handy when carting messy cargo.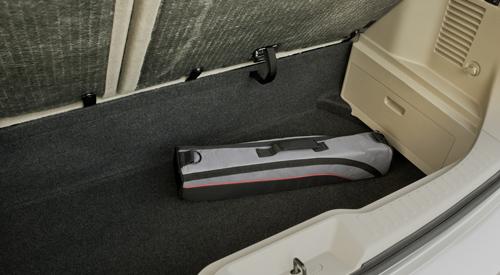 Nissan Quest: Nissan's minivan has a permanent under-floor storage well that's behind its third row of seats. Since the seats fold forward and flat instead of tumble down into the floor, as they do in most minivans, the storage space is usable even when the third row is in the folded position.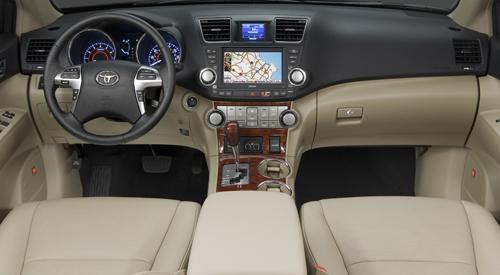 Toyota Highlander: This midsize crossover is the king of cupholders for its class. Toyota boasts that its Highlander has 10 cupholders peppered throughout its interior and four bottleholders in the door panels. That's great for the family that wants to be well-hydrated or the one that just forgets to throw out the empties.
Related
Top 10 Cargo Surprises
More Family News on Cars.com
More Automotive News on Cars.com