Daily News Briefs: June 27, 2012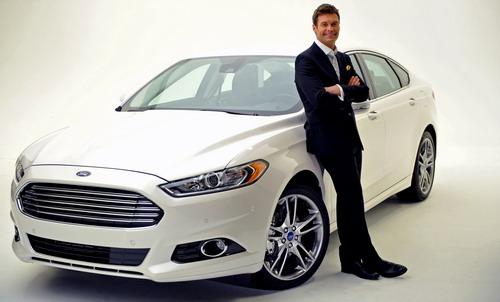 Ford hopes its marketing efforts can lift the 2013 Fusion above the noise of four other redesigned family cars, and its tool is Ryan Seacrest. (Pun totally intended.) The 37-year-old "American Idol" host will headline a campaign dubbed "Random Acts of Fusion." Ford described the campaign as a "unique transmedia marketing initiative." Marketing chief Jim Farley said in a statement to expect "social media, entertainment and unexpected consumer experiences" throughout the campaign. Watch Seacrest wax poetic about the Fusion on the sedan's Facebook page, and stay tuned for more, uh, transmedia initiatives leading up to the car hitting showrooms this fall.

In other news:
Despite Nissan's quick return from last year's natural disasters, CEO Carlos Ghosn said Tuesday that the automaker needs to save cash because of global uncertainties, the Detroit News reports.
On the heels of new plans to use hydrogen fuel-cell technology from Toyota, BMW said it will stop collaborating with GM on fuel-cell technology, Bloomberg News reports.
Bloomberg also reports that automotive charging mats, which allow cordless charging for EVs, will be available around 2015.
Related
More Industry News
See Our Impressions on the 2013 Fusion
More Automotive News