Why Did Acura Ditch the RDX's Turbo?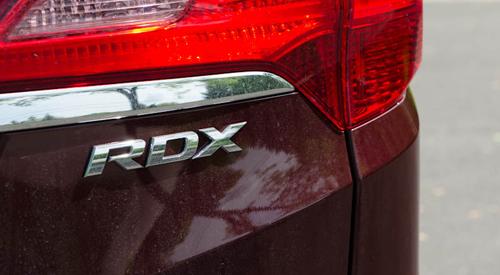 When every other automaker is downsizing due to fuel-economy regulations, Acura actually added two cylinders to the engine of its redesigned compact crossover. For 2013, it swapped out the RDX's turbocharged 2.3-liter four-cylinder and replaced it with a version of the TL sedan's 3.5-liter V-6. Why the switch?
It starts with an unlovable turbo. Turbos are supposed to be fun and fuel-thrifty, but the RDX's turbo engine was unrefined and thirsty at the pump. According to Cars.com's Managing Editor David Thomas, the crossover's new engine offers something different: "Leaving a stoplight isn't as energizing, but accelerating onto a highway on-ramp or passing cars at highway speeds are easier maneuvers with the new V-6," he says in his 2013 RDX review.
"When we launched the '07 RDX with the 2.3-liter turbo engine, we were using the turbo to maximize engine power. We feel that we accomplished this as this engine produced 240 hp. However, it came at the cost of higher fuel economy than the market ultimately craved once gas prices started to climb," Acura spokesman Chuck Schifsky said.
As Thomas states in his review, the fuel-economy gains with the new engine are significant: The 2012 RDX was EPA rated at 19/24 mpg city/highway; the 2013 front-wheel-drive model is rated at 20/28 mpg. Horsepower is up, too: The previous generation had 240 horsepower; the 2013 model makes 273 hp.

"For 2013, we were able to use our 3.5-liter V-6 with variable cylinder management &mdash' it can run on three, four or six cylinders to save fuel. This allowed us to bump the horsepower," Schifsky said.

The 2013 RDX, however, is also more expensive than the outgoing model. Base versions of the 2012 started at $33,780, including an $885 destination fee. The new model costs almost $1,500 more and starts at $35,215, including an $895 destination charge. There is one penny-pinching bonus with the new model: Acura now says premium fuel is recommended instead of required.

The price increase hasn't driven away buyers yet, however. The compact crossover just went on sale amid a major marketing campaign. May 2012 sales were nearly triple what they were in May 2011 at 3,301 units. That's more than the BMW X3 (2,460), Audi Q5 (2,332), Mercedes-Benz GLK-Class (2,133), Volvo XC60 (1,751) and Land Rover Range Rover Evoque (706). Only Cadillac's SRX did better with 3,900 units sold in May.

Related
2013 Acura RDX Review
2013 Acura RDX Priced at $34,320
Research More Luxury Crossovers