2013 Toyota Corolla Priced at $17,025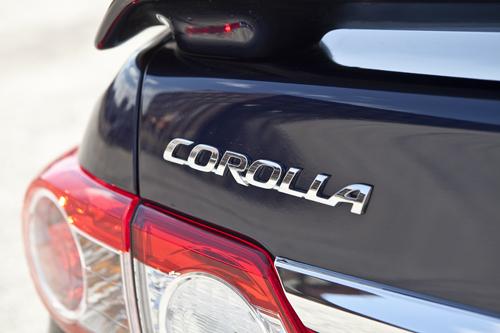 When the 2013 Toyota Corolla goes on sale later this summer, it will start at $17,025, including a $795 destination fee. That's a $100 increase in the MSRP and a $35 increase in the destination fee.
The 2013 Toyota Corolla is available in L, S and LE trims. For the 2013 model year, all Corolla trims get a new front grille. The LE trim gets a chrome grille and a chrome-accented beltline. Photos of the updates won't be available until September, according to Toyota North American representatives. Both LE and S trims get a 6.1-inch touch-screen display with USB connectivity and Bluetooth streaming audio, standard. The S trim sees a $240 price increase, and the LE trim gets a $270 price increase.
The LE is available with two new packages, and the S with three new packages, including a Premium Complete Package, which comes with navigation and Toyota's new Entune multimedia system and automatic climate control. The North American 2013 Toyota Corolla is already in production in Japan (since July 9); Toyota will begin production at its two North American plants in early August.
The 2013 Toyota Matrix also has been priced at $20,070, up $465 from the 2012 model year. It gets a new base audio system, which includes USB connectivity and Bluetooth standard. The S trim gets a 6.1-inch touch-screen display standard.
The 2013 Toyota Sienna was also priced at $27,280; it sees a fairly steep $1,410 price increase from the 2012 base model. That's because Toyota dropped the anemic four-cylinder base engine, which was available in 2012; all 2013 models now come standard with 266-horsepower, 3.5-liter V-6 and six-speed automatic transmission. The base LE trim now comes standard with an eight-way power driver's seat and three-way automatic climate controls with a cabin air filter. The Limited trim now comes with standard blind spot monitoring, which is also newly available to the SE and XLE trims, too.
The 2013 Matrix and 2013 Sienna go into production starting early August, with sales starting shortly thereafter.
Continue below for more pricing details:
---
2013 Toyota Corolla (2012 prices in parenthesis)
L: $16,230 ($16,130)
LE (incl. automatic): $18,180 ($17,910)
S: $18,230 ($17,990)
Automatic transmission: $830 ($830)
Destination: $795 ($760)
---
2013 Toyota Matrix
L: $19,275 ($18,845)
S: $20,265 ($19,565)
S + AWD: $22,415 ($21,715)
Automatic transmission: $840 ($840)
Destination: $795 ($760)
---
2013 Toyota Sienna
Base w/4-cylinder: Discontinued ($25,060)
LE w/4-cylinder: Discontinued ($26,145)
LE: $26,435 ($26,300)
LE AWD: $32,315 ($31,930)
SE: $33,575 ($33,440)
XLE: $33,860 ($33,205)
XLE AWD: $36,300 ($35,545)
Limited: $39,955 ($39,300)
Limited AWD: $41,325 ($40,570)
Destination: $845 ($810)
---
Related
Research the Toyota Corolla
Research the Toyota Matrix
Research the Toyota Sienna