Buick Verano Turbo Rated at 31 MPG Highway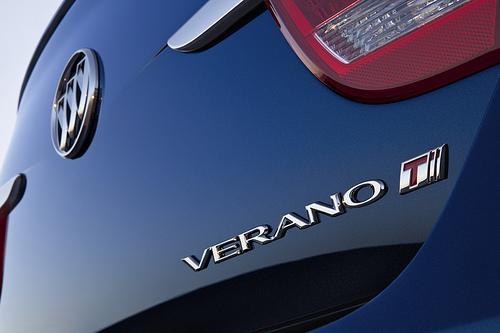 The turbocharged version of Buick's compact
Verano
will get 31 mpg on the highway, according to the EPA. The 2013 Verano Turbo is rated at 20/31/24 mpg city/highway/combined. Non-turbocharged Veranos use a 180-horsepower four-cylinder engine and get 21/32/25 mpg.
The Verano Turbo, powered by a 250-hp, turbocharged 2.0-liter four-cylinder, goes from zero to 60 mph in an estimated 6.2 seconds, Buick says. The automaker previously said the Verano Turbo's fuel economy would be in line with the brand's other turbocharged models, though it bests the sibling Regal turbo's 18/29 mpg city/highway EPA rating.
The Verano Turbo goes on sale later this year.
Related
2013 Buick Verano Turbo: First Look
Research the 2013 Buick Verano
More Buick News on Cars.com