Daily News Briefs: July 13, 2012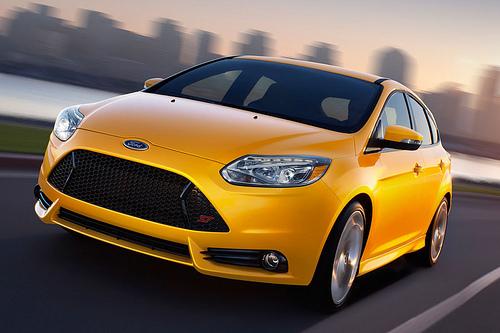 Ford says EPA ratings for the six-speed-manual 2013 Focus ST are 23/32 mpg city/highway, beating out the rival Mazdaspeed3 (18/25 mpg), Volkswagen GTI (21/31 mpg) and Subaru Impreza WRX (19/25 mpg) with manual transmissions. The automatic-transmission GTI edges out the group at 24/33 mpg, but it's the only one to offer an auto. Like the others, the Focus ST wants premium gas for maximum power, though Ford says it runs fine on the cheap stuff. The hatchback's turbocharged 2.0-liter four-cylinder makes 252 horsepower and 270 pounds-feet of torque. That's a hefty increase over other gasoline-powered Focus trims, whose non-turbo 2.0-liter makes 160 hp and gets an EPA-estimated 28/38 mpg with the base automatic. Available only as a hatchback, the Focus ST is trickling into dealerships now: As of today, fewer than a dozen are in Cars.com national inventory. It starts at $24,495, including the destination charge.

In other news:
A resolution to Hyundai's tenuous labor situation may be in the works. Bloomberg News reports union leaders in South Korea have agreed to resume talks with that nation's largest automaker next week.
GM plans to double its information technology employees at global locations over the next few years, Reuters reports. That reverses a longstanding trend for the Detroit automaker, which currently outsources 90% of its IT work.
Senator Chuck Grassley (R-Iowa) is asking the National Highway Traffic Safety Administration to reinvestigate unintended acceleration at Toyota on grounds the original investigation was too narrow in scope, CNN reports.
Related
More Industry News
Ford Focus ST: Up Close
More Automotive News