Daily News Briefs: July 17, 2012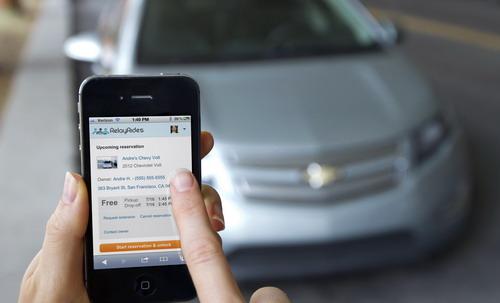 GM is teaming with car-sharing service RelayRides to allow Chevrolet, GMC, Buick or Cadillac owners to unlock their doors via an OnStar app, Reuters reports, making it easier to facilitate car sharing than cars without a telematics system. Car sharing requires you to meet the driver to hand over keys or leave the keys in a nearby hiding spot. RelayRides' website has a hokey two-minute video, complete with stick puppets and a scale-model Chevrolet Volt, to explain the process.
In other news:
Fiat launched a new commercial — sans Jennifer Lopez, Catrinel Menghia or Charlie Sheen — that depicts various 500s swimming from bucolic Italian shores to urban New York. Caveat: The 500 does not actually swim.
Surges in production at Honda and Toyota have buoyed economies across the South and Midwest, Bloomberg News reports. So far this year, U.S. production is up 75% at Honda and 67% at Toyota, with both companies on pace to break North American output records set in 2007.
Just five days after Opel boss Karl-Friedrich Stracke stepped down — and GM threw Vice Chairman Steve Girsky the emergency reins — the automaker appointed restructuring consultant Thomas Sedran as the next interim CEO, Automotive News reports. Opel, a European subsidiary of GM, has lost more than $3.5 billion since 2009.
Mitsubishi began production of the Outlander Sport SUV at its Normal, Ill., plant. The automaker plans to build as many as 70,000 Outlander Sports a year in Normal and will export half of them overseas.
A redesigned Nissan Versa hatchback will borrow design cues and underpinnings from the redesigned Nissan Note, which goes on sale overseas in 2013. The hatchback joins the redesigned Versa sedan that went on sale a year ago.
Related
More Industry News
A Firsthand Account of Car Sharing
More Automotive News