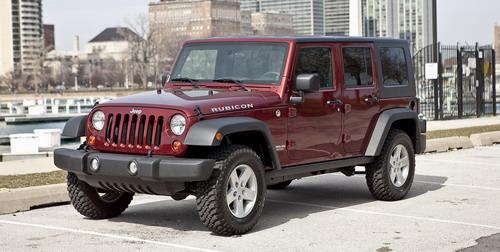 Two California lawmakers asked
Chrysler
to warn
Jeep Wrangler
owners of the SUV's propensity to shimmy or shake at highway speeds,
Automotive News reports
. Chrysler, whose brands include Dodge and Jeep, contends its vehicles "meet or exceed" governmental safety standards. Any car with a solid-axle suspension can experience such shaking, which is correctable with "a change of tires or installation of a simple steering dampener," the automaker told Automotive News. Still, the Wrangler is one of the only SUVs left with solid front
and
rear axles, forgoing the more common independent suspension to maximize off-road capabilities. The National Highway Traffic Safety Administration has received 402 complaints from more than half a million owners of 2005-2010 Wranglers — the model years in contention. NHTSA will continue to monitor the situation.
In other news:
Audi chief executive Rupert Stadler told Reuters he expects Audi to overtake BMW as the world's top luxury carmaker "by 2020 at the latest."
Mercedes-Benz maintains a clear U.S. sales lead among luxury brands, however. With the highest first-half sales figures in its 47-year history, the German brand extended its lead past second-place BMW, the Detroit News reports.
Despite a strong yen sapping profits and curtailing production of cars in Japan, Toyota aims to keep building most of its Lexus luxury division in Japan, Automotive News reports.
Related
More Industry News
See the Latest Recalls
More Automotive News