Don't Drive While "Intexticated"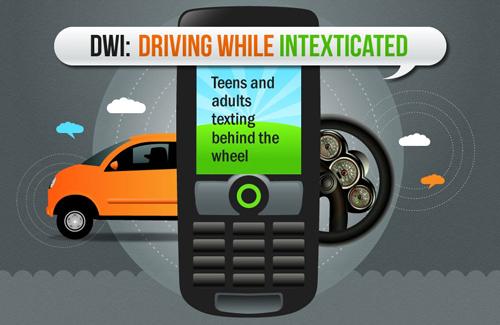 In 2010, the U.S. Department of Transportation reported that 3,092 people were killed in distracted-driving-related accidents. Just as alarming is that more than two-thirds of drivers polled by the National Highway Traffic Safety Administration about distracted driving reported that they answer calls on all, most or some trips.
NHTSA's survey also showed that drivers younger than 25 are two to three times more likely than older drivers to send text messages or emails while driving, though only 39 states ban the behavior. It's become something U.S. Transportation Secretary Ray LaHood calls an epidemic. "Personal responsibility for putting down that cellphone is a good first step — but we need everyone to do their part, whether it's helping pass strong laws, educating our youngest and most vulnerable drivers, or starting their own campaign to end distracted driving," he said in a statement.
The internet education portal OnlineSchools.com produced the info graphic below, which breaks down the hard numbers and the tough consequences of texting and driving.
Online Schools
Related
DWI: Driving While Intexticated (Onlineschools.com)
Feds Propose Distracted-Driving Guidelines to Automakers
More Safety News on Cars.com