Recall Alert: 2001-06, 2008 Mazda Tribute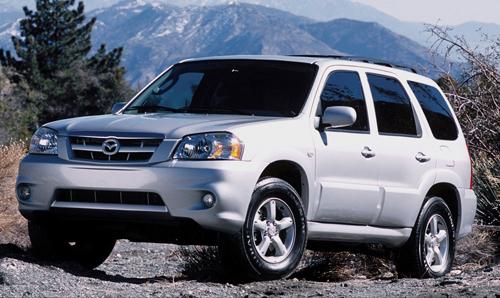 Mazda says it is recalling 217,500 Mazda Tributes to fix an unintended-acceleration defect that we first reported on Thursday for the
first-generation Ford Escape
. The recall affects 2001-06 and 2008 Tributes equipped with a 3.0-liter V-6 engine and cruise control, according to
the Detroit News
.
Mazda's recall affects more model years than the Ford Escape (2001-04) because Mazda used the same engine cover design longer than Ford did, The New York Times reported. (The Tribute was a rebadge of the Escape.) Mazda on Thursday told the National Highway Traffic Safety Administration of its plan for a recall, Tamara Mlynarczyka, a Mazda spokeswoman, told the Times.
Altogether, 702,500 Ford-manufactured SUVs have been recalled because of the unintended-acceleration issue.
On the affected models, there isn't enough clearance between the engine cover and the cruise control cable connector; as a result, the throttle could stick when the pedal is nearly or fully depressed. A stuck throttle could lead to uncontrollable high speeds and possibly a serious or fatal crash, NHTSA says. The issue could happen regardless of whether the cruise control is used or not.
NHTSA has received 99 complaints. They include 13 crashes, nine injuries and one death; a 17-year-old Arizona teen died in January when her 2002 Escape accelerated out of control, according to WXYZ-TV. Of the 99 complaints, 68 are from Escape owners and 31 are from Tribute owners, according to the Detroit News.
Owners will get a new engine cover to increase the clearance between it and the cruise control cable connector. No word yet on when the Mazda recall will happen.
Related
Mazda Recalling 215,000 Tribute SUVs for Throttle Issue (The Detroit News)
Mazda Follows Ford With Recall of Tributes (The New York Times)
Recall Alert: 485,000 2001-04 Ford Escapes