Recall Alert: 485,000 2001-04 Ford Escapes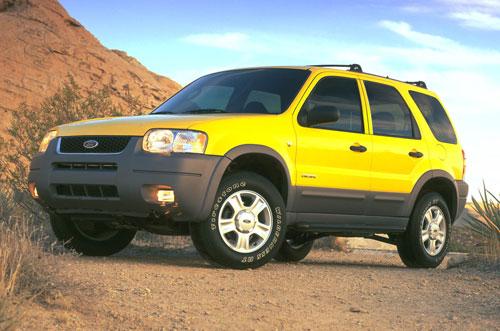 Ford is recalling nearly 485,000 2001-04 Ford Escape SUVs equipped with the 3.0-liter V-6 and cruise control, according to the National Highway Traffic Safety Administration, as reported by Autoblog.
On Escapes manufactured from Oct. 22, 1999, through Jan. 23, 2004, there isn't enough clearance between the engine cover and the cruise control cable connector; as a result, the throttle could stick when the pedal is nearly or fully depressed. A stuck throttle could lead to uncontrollable high speeds and possibly a serious or fatal crash, NHTSA says. The issue could happen regardless of whether the cruise control is used or not.
The recall comes after a NHTSA investigation of 730,000 Escapes and Mazda Tributes for unintended-acceleration issues, according to Bloomberg News. NHTSA has received 99 complaints; they include 13 crashes, eight injuries and one death. Some complaints allege that the throttle fails to return to idle after being depressed and released, possibly pointing to an accelerator cable failure.
Ford will notify owners, and dealers will change the engine cover for free. The recall is expected to begin Aug. 6, and dealers will either disconnect the cruise control as an interim remedy or replace the engine cover when parts are available.
Owners can call Ford at 866-436-7332, visit www.fordowner.com or contact NHTSA's vehicle safety hotline at 888-327-4236 for more info.
Related
Research the Ford Escape
Check Out More Recalls
More Safety News