Saturn Aura, BMW 335i See Biggest Used Price Drops on Cars.com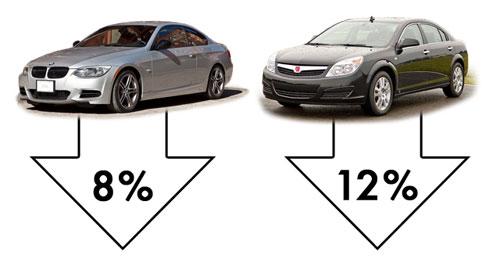 Late-model used-car prices on Cars.com have eased a little recently, dropping slightly from June 1 to July 1, but a number of used cars saw big decreases in asking price.
The Saturn Aura midsize sedan saw the biggest percentage decrease, declining 12%, or $1,764, to $13,197. The BMW 335i compact luxury car had the next greatest drop with an 8% decline, resulting in a $3,446 decrease in the average asking price to $39,969. BMW recently redesigned the 3 Series sedan for the 2012 model year.
From June 1 to July 1, used-car prices for 2009 to 2011 models slid a modest $31 to an average $22,350. Though lower than last month, this average is still $554 greater than it was at the beginning of the year for used cars from these model years.
The charts below details the top 10 used cars from the 2009 to 2011 model years with the biggest price drops — as well as the 10 with the biggest increases. To be eligible for the list, a model had to have 500 cars in Cars.com's national inventory to give potential shoppers a chance at finding one nearby.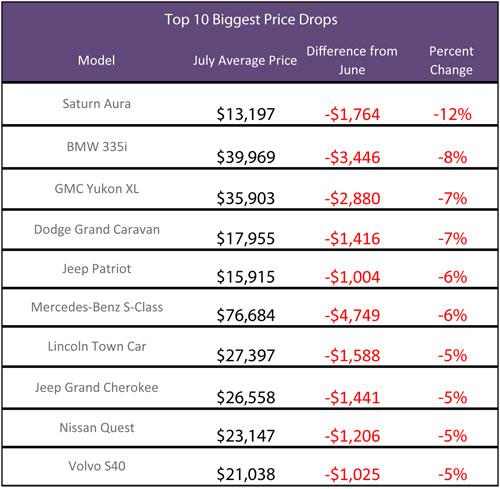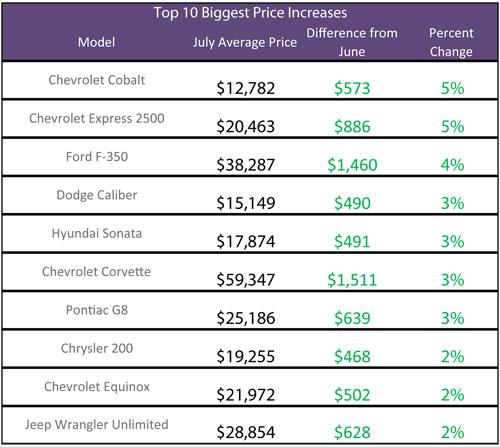 Source: Cars.com used-car listings, 2009 to 2011 model years