Study: Aftermarket Devices Not Preventing Child Deaths in Hot Cars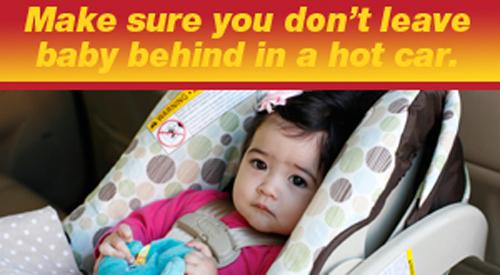 Heatstroke is the leading cause of non-crash vehicle-related deaths among children under 14, according to the National Highway Traffic Safety Administration, and a new study has found that aftermarket products designed to prevent kids from accidentally being left in a hot car aren't working.
NHTSA and the Children's Hospital of Philadelphia joined forces to test several monitoring products that connect to a child-safety seat. The systems, which alert parents that they may have unintentionally left a child in a parked vehicle, are unreliable in preventing heatstroke, the study found.
The products range from weight- and force-sensing pads placed in the child seat to temperature-sensitive clips attached to the seat. The study took issue with what it calls "reminder technology" systems for a variety of problems, including inconsistent signal strength, interference from other electronic devices, susceptibility to spill damage and the device becoming disarmed by a slumping or mis-positioned child.
"The devices require considerable effort from the parent/caregiver to ensure smooth operation, and often that operation is not consistent," the study says. Since the products are child restraint-based, they can't help the 20% to 40% of children who are killed after they sneak into a hot car to play, the study found.
According to NHTSA, 527 kids have died in hot cars since 1998, and the agency says it can happen to anyone. "Everything we know about child heatstroke in motor vehicles is that this can happen to anyone from any walk of life — and the majority of these cases are accidental tragedies that can strike even the most loving and conscientious parents," NHTSA Administrator David Strickland said in a statement. "While many of these products are well-intended, we cannot recommend parents and caregivers rely on technology to prevent these events from occurring."
Related
Car Seat Alerts Parents Via Smartphone
NHTSA Wants Parents to 'Look Before You Lock' This Summer
More Children Dying in Hot Cars