2013 BMW X1 Rated at 34 MPG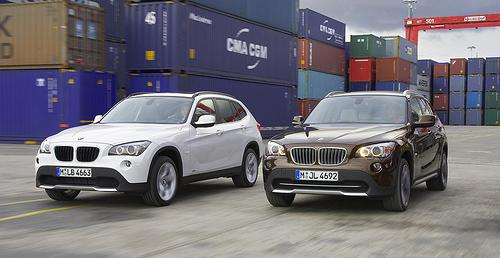 The 2013 BMW X1 crossover is rated at 24/34/28 mpg city/highway/combined, according to the EPA.
That compares favorably to the 2012 Land Rover Range Rover Evoque, which gets 18/28 mpg. More small luxury crossovers from Lexus, Audi and Lincoln will be arriving on the scene shortly.
That rating is for the sDrive28i, which is rear-wheel drive only. The all-wheel-drive xDrive28i also gets a good rating of 22/33/26 mpg.
The sDrive28i and xDrive28i come equipped with a 241-horsepower, turbocharged 2.0-liter inline-four mated to an eight-speed automatic transmission with start-stop technology. There's also a 300-hp, 3.0-liter inline-six mated to a six-speed automatic transmission on the xDrive35i, which is rated at 18/27/21 mpg. All three models require premium gasoline, according to the EPA.
The X1 is on sale now with a starting price of $31,545. The X1 xDrive28i starts at $33,245, and the X1 xDrive35i starts at $39,345. All prices include a $895 destination fee.
Related
2013 BMW X1 Starts at $30,650
BMW X1: First Look
2013 BMW X1: Up Close