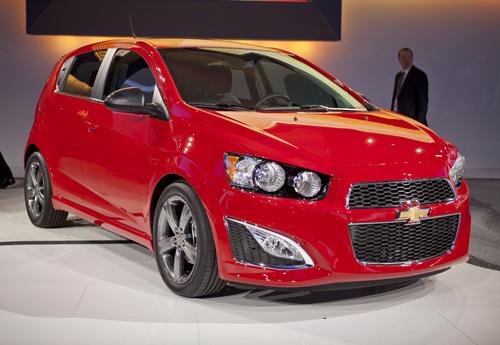 When the slightly sporty Chevrolet Sonic RS goes on sale early this fall, it will do so with a starting price of $20,995, including destination, and $22,280 for a Sonic RS equipped with an automatic transmission. It is offered as a four-door hatchback only.
Pricing is in line with other sporty-minded subcompacts. The 2013 Fiat 500 Abarth starts at $22,700, and the 2013 Honda Fit Sport with a navigation system costs $20,480.
The Sonic RS adds a lowered and stiffened suspension with sports-oriented dampers over the base Sonic. Braking is also improved via four-wheel disc brakes; the regular Sonic uses front discs and a rear drum.
The Sonic RS features shorter gearing in the six-speed manual and a modified final drive ratio for the automatic transmission.
The model adds ground effects, unique fog light designs, 17-inch alloy wheels, a rear spoiler and darker-colored side mirrors. It can be equipped with a power sunroof.
In the cabin, the Sonic RS comes equipped with real leather upholstery (other Sonics are available only with leatherette). The front seats have large side bolsters; the black leather also features suede-like inserts. There's a thick rimmed, flat-bottom, leather-wrapped steering wheel and leather-wrapped shifter, and aluminum pedals. A touch-screen featuring Chevy's MyLink multimedia system also comes standard.
Related
2013 Chevrolet Sonic RS at the 2012 Detroit Auto Show
2013 Chevrolet Sonic: What's Changed
More Automotive Industry New