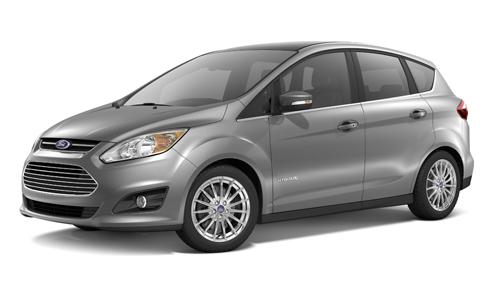 The 2013 Ford C-Max Hybrid has an official EPA rating of 47/47 mpg city/highway for a combined score of, you guessed it, 47 mpg.
The C-Max Hybrid will start at $25,995, including a $795 destination fee.
The dedicated hybrid joins what's still a relatively small list of standalone hybrid models that's dominated by four Toyota Prius derivatives and the lowly Honda Insight. The Ford C-Max Hybrid's EPA rating is respectable — it falls behind the Prius hatchback and Prius c — but ahead of the Honda Insight and Toyota Prius v. The Prius v, which Ford says is the C-Max's closest natural competitor, has a EPA score of 44/40 mpg. The regular Prius hatchback gets 51/48 mpg.
It's important to note that the Prius v is significantly larger than the C-Max Hybrid, offering more cargo space; the C-Max Hybrid has a comparable luggage capacity to a regular Prius hatchback. The 2012 Toyota Prius v starts at $27,345, including a $795 destination charge, and the Prius hatchback start at $24,795, including a $795 destination fee.
The Ford C-Max Hybrid is available in SE and SEL trims. A plug-in hybrid model, called the C-Max Energi, is available for $33,745 and is capable of 20 miles purely on electricity. No word yet on the Energi's gas mileage rating. The Ford C-Max Hybrid will go on sale later this fall.
Related
Ford Predicts 47 mpg for C-Max Hybrid
2013 Ford C-Max Hybrid Priced at $25995
Ford C-Max Plug-in Travels 20 Miles on Electric Power