2013 Hyundai Genesis: What's Changed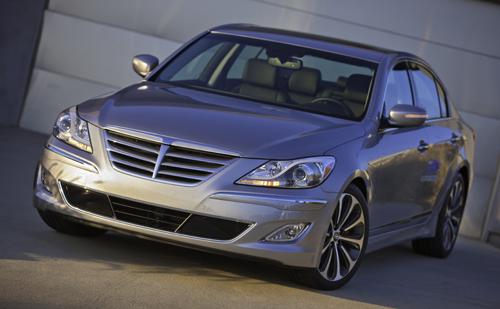 Most significant changes: 4.6-liter V-8 dropped; 5.0-liter V-8 now a rare option
Price change: TBA
On sale: TBA
Which should you buy, 2012 or 2013? If you had any interest in an affordable new V-8 Genesis, buy now
For the 2013 model year, the Genesis sedan gets a reconfigured engine lineup, making it harder to obtain a V-8 engine in the premium sports sedan. Another big change is the addition of a more sophisticated multimedia system and Hyundai's Blue Link communication system.
Blue Link is also newly available in the 2013 Genesis Coupe, too.
The Genesis changes, particularly the all-new multimedia system, are likely aimed at stemming expected sales losses to its new competitor, the Kia Quoris luxury sedan, which will debut later this year. An all-new Genesis sedan is expected in the next year.
For the 2013 model year, Hyundai has dropped the 385-horsepower, 4.6-liter V-8 as well as the 429-hp, 5.0-liter V-8 from the regular Genesis lineup. The 5.0-liter V-8 is still available, but only on the performance-oriented 5.0 R-Spec, which was new for the 2012 model year. There was only a $1,000 difference between the Genesis 5.0 and the Genesis 5.0 R-Spec and only $2,000 separating the R-Spec from the Genesis 4.6 in the 2012 model year; most shoppers probably opted for the R-Spec version. The 333-hp, 3.8-liter V-6 is available in Premium and Technology Package trims while the R-Spec is available in just one decked-out trim offering.
The new multimedia system features better voice recognition, an improved user interface and functionality, and Hyundai's Blue Link communication system. All systems are available with just an 8-inch display that's controlled via a center-console-mounted knob. The 2012 had a 7-inch touch-screen option. There's now a standard 64-gigabyte drive for music and Bluetooth audio streaming. The new voice-recognition system understands street addresses and cities in just one sequential sentence, making it more natural to dictate directions. Now integrated into the point-of-interest feature is Zagat restaurant ratings, according to Hyundai. The navigation system also can display speed limits, lane guidance and the next three navigation moves, which are new functions. The system is standard on the 5.0 R-Spec and the Genesis 3.8 with Technology Package. Blue Link can only be had with the navigation system and comes with a one-year complimentary trial period.
The 2013 Hyundai Genesis will likely go on sale in the next few months. No pricing details were made available as of publishing.
Related
More Hyundai Genesis News
2012 Hyundai Genesis Video
2013 Hyundai Genesis Coupe at the 2012 Detroit Auto Show