A Billboard That Doesn't Ruin the View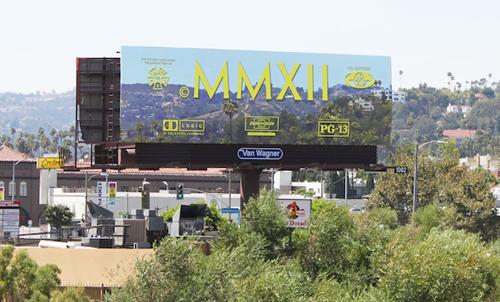 While we don't often get this issue here in flat Illinois — Cars.com HQ is in downtown Chicago — we've all seen our fair share of chintzy, vulgar ads for fireworks, ambulance chasers … and let's not forget adult book/video stores. Probably even more offensive are those electronic billboards with their bright hues and transitioning eye candy that all but demand your attention. If you live somewhere a bit more scenic, these flashy adverts are likely obtrusive.
A billboard in Los Angeles is trying to change that by getting its message across without diminishing the view of the hills beyond. The installation above Hollywood Boulevard is an ad for Hammer Museum and its new exhibit "Made in L.A.," according to AdWeek. The billboard's artist, Cayetano Ferrer, is also participating in the exhibit. While the foreground of the ad is meant to look like a movie teaser — an homage to the city's most important industry — you can see that the background photo nearly perfectly matches the hills and houses beyond (from this angle at least).
We certainly wouldn't mind seeing more of these types of ads, but we doubt an aesthetically pleasing billboard will get its point across better than one that screams its message via a 50-foot-tall megaphone.
Related
Los Angeles Billboard Fits Pleasantly Into Its Natural Surroundings (AdWeek)
More Automotive News
Digital Billboards in Jeopardy