Bill Could Banish Those Impossible Latch Anchors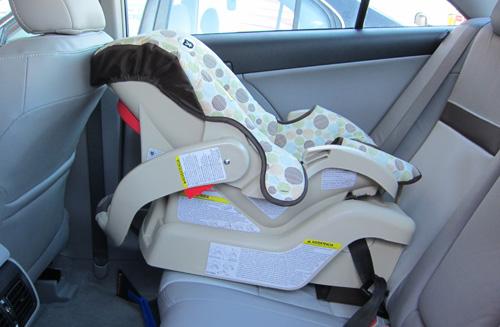 A federal highway bill that passed Congress last month could improve the safety of children in child-safety seats during a side-impact crash — and make it easier for parents to install those child seats.
The bill calls on the National Highway Traffic Safety Administration to require automakers to improve access to Latch anchors, improve side-impact protection for kids in child seats and research technology that alerts parents to children left behind in the backseat. Expect final legislation on side-impact improvements for child seats within two years and Latch-anchor advancements within three years.
How will NHTSA improve Latch access? A spokesman revealed little, saying only that the agency was "in the process" of responding. But the improvements are overdue. The Latch system originated in the late 1990s to make child seats easier to install than with seat belts, but a lot of people still secure their car seats with belts, which safety advocate Joseph Colella said runs the risk of incompatibility issues.
"The intent was to make it so that car seats had a simple, universal way of installing them, and you didn't have to figure out the seat belt system, you didn't have to worry about seat belts designed for adult safety instead of child safety," said Colella, who heads up Traffic Safety Projects near Washington, D.C., and sat on the panel that recommended the Latch system in 1995.
"A seat belt forward of the bight — or the crack in the vehicle seat — it can't hold a car seat back," he said. "If it's anchored in front of the seat belt's belt path, you can't make the car seat [fit] tight."
What's more, certain belt technology can't support child seats. Some automakers warn that inflatable seat belts won't hold them, for example. Put it all together and Colella noted that less than half of parents with car seats use Latch properly. You can't blame them. A study published last April by the Insurance Institute for Highway Safety found just 21 of the top 98 best-selling cars had easy-to-use Latch anchors.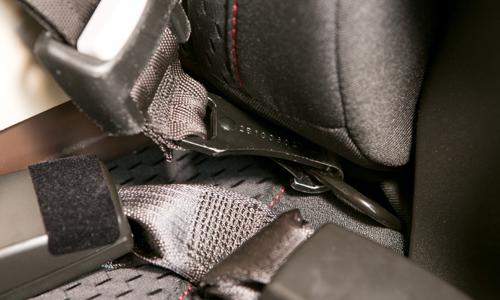 Our favorite anchors fall into three categories: exposed, those under snap-off covers and those beneath hinged flexible covers. The 2012 Audi Q5's and 2012 Suzuki Kizashi's anchors are under plastic covers that snap off, easing access (just don't lose them). Access is a no-brainer in the 2012 Chevrolet Equinox (above) and 2013 Ford Escape; their anchors are exposed and have plenty of clearance around them. Lastly, some new Mercedes-Benz vehicles like the 2013 GLK-Class have hidden anchors under flexible hinged covers; pushing through them to connect is easy.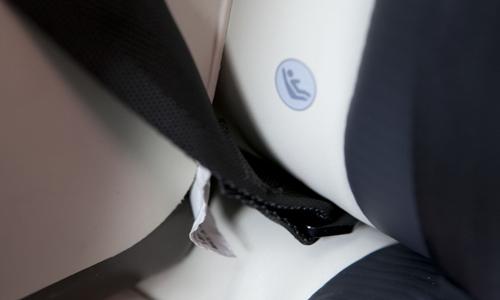 The ones on the naughty list fall into two camps: cars with Latch anchors that are buried too far down in the seat bight, where the back and bottom cushions meet, or those with firm seat cushions that block access to the anchors. The Toyota Camry's and Volvo XC60's (above) anchors are set too deeply and require some digging to connect to them. The seat cushions in the 2013 Hyundai Elantra GT and 2012 XC60 are so firm that lots of force is required to part them and locate the anchor.
"A lot of parents that have difficulty with Latch think somehow they're just not following the directions, or there's something wrong with their ability," IIHS spokesman Russ Rader said. "Parents should be able to install a child restraint using less than 40 pounds of force. You shouldn't have to get in there and put your knees and all your weight in."
Having installed hundreds of car seats in today's cars, we agree. Here are some other recommendations:
Creating specific standards for things like seat cushion stiffness and how deeply set the anchors are in the seat bight would help demystify the installation process.
Requiring more Latch anchors — a third set for the middle seating position and at least one set in the third row of a vehicle — would open more safe spaces for child-safety seat installation.
Standardizing the placement of tether anchors would also help. Currently, they're found on the rear parcel shelf, cargo floor, seatbacks, ceiling and, in the case of the 2012 Chrysler 200 convertible, the trunk.
It's not just easier-to-find anchors — it's stronger ones, too. Depending on the weight of the safety seat, the time frame when Latch anchors can be used may be too short. In 2014, NHTSA plans to require carmakers to post warnings that parents should secure their child with seat belts if the car seat and kid weigh 65 pounds or more combined. That doesn't leave a huge window for kids to grow, given some child seats weigh as much as 33 pounds. Auto manufacturers support the move, but five organizations, including Traffic Safety Projects, have petitioned NHTSA to instead require automakers to build stronger Latch anchors to raise the weight rating.
"We're taking a step backward so that seat belts will have to be used more often than they were," Colella said. "They need to make the vehicle anchors stronger. That would solve the whole problem."
We'll let you know what happens.
Editors Jennifer Geiger and Jennifer Newman contributed to this report.
Related
Car Seat Checks
More Family News
More Automotive News