First Look: 2013 Land Rover LR2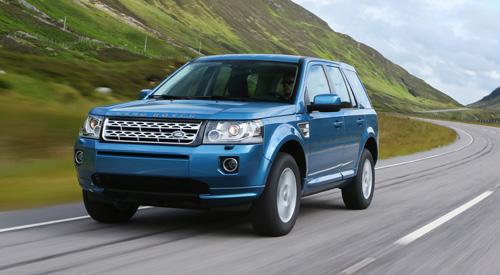 Competes with: Acura RDX, BMW X3
Looks like: A minor update outside, a major one under the hood
Drivetrain: 240-hp, turbocharged 2.0-liter four-cylinder and six-speed automatic
Hits dealerships: TBD
On the heels of announcing a new-for-2013 Range Rover, Land Rover just released more lineup news. It's also revising the LR2 for 2013, and while the minor exterior tweaks may be hard to notice, what's under the hood is hard to miss.
The LR2 is brightened up for the new model year with a revised headlamp design, new wheels and more exterior colors. The big news is that the compact SUV's six-cylinder gets the boot, replaced by a 240-horsepower, turbocharged 2.0-liter four-cylinder. A six-speed automatic is the sole transmission.
Borrowed from the brand's compact Range Rover Evoque SUV, the turbo gets the LR2 from zero to 60 mph in 8.2 seconds, Land Rover says. Fuel economy info hasn't been announced, but in the Evoque, the turbo is EPA-rated at 18/28 mpg city/highway. The LR2 uses Land Rover's Intelligent Power System Management, which takes kinetic energy normally lost when the vehicle decelerates and uses it to help the alternator charge the battery.
Inside, the new LR2 has a revised dashboard layout, new center console and updated instrument cluster layout. More equipment will be available this year. Newly standard is a 7-inch touch-screen and dual sunroofs. Optional are a Meridian surround-sound system with 17-speakers, voice command system and a backup camera with a trailer hitch assist function.
Prices, including an unspecified destination charge, are below:
LR2: $37,250
LR2 HSE: $39,750
LR2 HSE LUX: $42,350
The 2013 LR2 will run the auto show circuit, starting with an appearance at the Moscow International Motor Show later this month, followed by the Paris Motor Show this fall.
Related
Research the Land Rover LR2
2013 Land Rover Range Rover: First Look
More Land Rover News on Cars.com