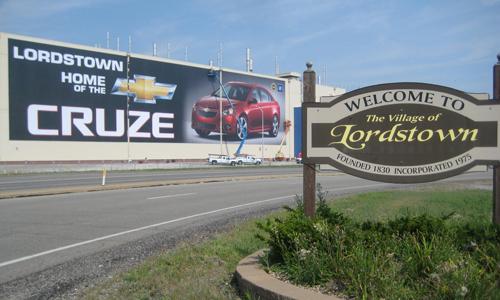 Ohio manufacturing plants in Lordstown and Parma will get a $220 million investment from GM for the production of the next-generation
Chevrolet Cruze
.
An actual production date for the second-generation Cruze has yet to be determined, but nearly 5,000 employees have been assured jobs at the Lordstown Complex and Parma Metal Center to build the new Cruze. Chevrolet's best-selling compact sedan has been built in Ohio since 2010, with more than 500,000 made so far. GM's investment will bring new tooling, equipment and facilities to both plants.
"Thanks to northeast Ohio's supportive business climate, we're able to build on a great foundation and steer the Chevrolet Cruze into the next generation," Arvin Jones, a GM manufacturing manager, said in a statement.
While we don't know much about the next-gen Cruze, we do know that work is under way to update the Lordstown plant for the new model. Jones says it will offer new exterior and interior styling, improved fuel economy and an improved interior compartment with more storage space.
The already-fuel-efficient Cruze on sale today is expected to gain a diesel powertrain for 2013, and we hope it carries over to the next-gen model. Chevrolet sold 14,954 Cruzes in July and more than 128,000 year to date.
Related
Chevrolet Cruze Review
2013 Chevrolet Cruze: What's Changed
More Chevy Cruze Diesel Details Emerge