2012 Honda Insight: Car Seat Check
The
Honda Insight
is the larger of the brand's two dedicated hybrids, and though this five-passenger hatchback is on the smaller side, we were able to fit two child-safety seats comfortably in the back. Aside from a few minor annoyances, the seat installation process was fairly painless.
For the Car Seat Check, we use a Graco SnugRide 30 rear-facing infant-safety seat, a Britax Roundabout convertible child-safety seat and Graco high-back TurboBooster seat.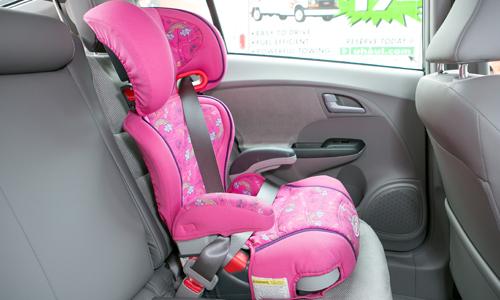 The front seats are adjusted to a comfortable position for a 6-foot driver and a 5-foot-8 passenger. The three child seats are installed in the second row. The booster seat sits behind the driver's seat, and the infant seat and convertible seats are installed behind the passenger seat. We also install the infant seat in the second row's middle seat with the booster and convertible in the outboard seats to see if three car seats will fit. If there's a third row, we install the booster seat and a forward-facing convertible.
Here's how the Honda Insight did in Cars.com's Car Seat Check:

Latch system: There are two sets of lower anchors in the outboard seats. They were easy to access under vertical openings in the seat upholstery.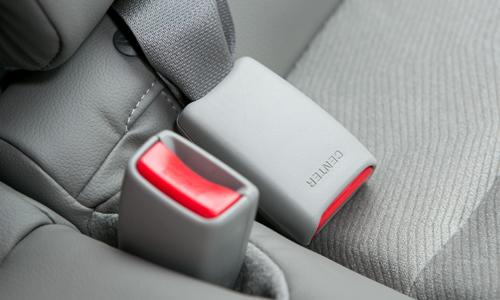 Booster seat: The booster installed easily but legroom could be an issue for taller kids. Buckling up should be easy for kids, however, since the buckles are on stable bases and within easy reach. The center seat's buckle and the outboard seat's buckle are almost on top of each other though, which could get confusing.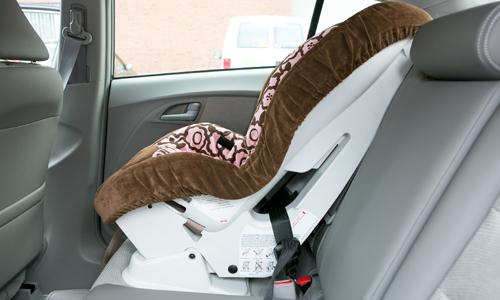 Convertible seat: There are three tether anchors midway down the seatback. Accessing them was easy, but getting at the inboard Latch anchors was tough because the stiff seat belt buckles obstructed access to the lower Latch anchors with this seat's large, rigid connectors. In the rear-facing position, our convertible was easy to install and had enough room; there was no need to move the front passenger seat forward to accommodate it.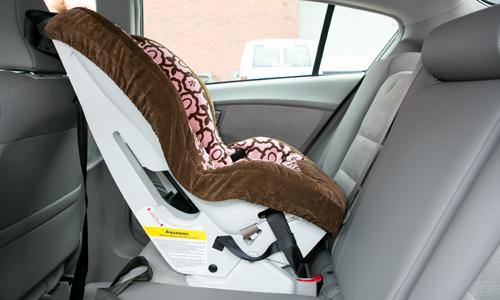 Infant-safety seat: We needed a bit more space for this rear-facing seat, so we had to move the front passenger seat forward two clicks. The front passenger still had enough legroom to sit comfortably.

How many car seats fit in the second row? Two.
Editor's note: For three car seats — infant-safety seat, convertible and booster seats — to fit in a car, our criterion is that a child sitting in the booster seat must be able to reach the seat belt buckle. Parents should also remember that they can use the Latch system or a seat belt to install a car seat.
Related
Research the 2012 Honda Insight
More Car Seat Checks on Cars.com
More Safety News on Cars.com