2013 Chrysler 300: What's Changed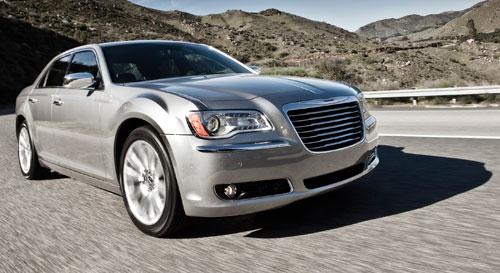 Most significant changes: Leather upholstery and heated front seats are now standard
Price change: $1,245 more
On sale: Next month
Which should you buy, 2012 or 2013? Unless you can get a really good deal on a 2012, there's much more value waiting in the 2013 model
For the 2013 model year, the Chrysler 300 gets a significant increase in luxury features and now offers all-wheel drive across the whole trim range.
On the 300, cloth upholstery is now a thing of the past; all models now come standard with genuine leather. Heated front seats are also newly standard. And for the first time, the 300C is now available with Chrysler's Pentastar 3.6-liter V-6 alongside the Hemi V-8, blurring the distinction between the two.
The 300 is available in base 300, 300S, 300C and 300C Luxury Series trims. For 2013, the Limited trim has been dropped, as most of its features have either gone to the base 300 or the V-6 300C. Although the lowest trim costs $1,245 more, most other trims see significant price reductions, making the 300 more attractive when cross-shopped against the 2012 Hyundai Genesis or the 2013 Buick LaCrosse. The Hyundai costs $4,000 more and isn't as well-equipped, and the LaCrosse is similarly priced to the Chrysler but lacking in the features department.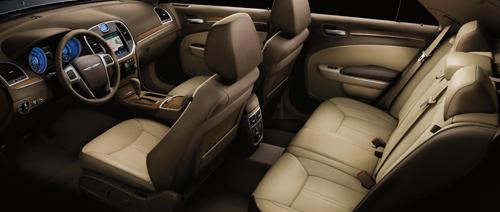 The new 300 starts at $30,840, including a $995 destination fee. All-wheel drive is a pricey $2,350 option, but it comes with larger wheels. Along with standard leather and heated seats, an 8.4-inch touch-screen with Chrysler's UConnect and Bluetooth audio streaming is again standard.
The V-6-equipped 300S now comes standard with a cold-induction system that gives the 3.6-liter V-6 eight more horsepower (300 hp total) over the regular 300. The 300S also gets a new sport-tuned exhaust system, a Sport mode added to its eight-speed automatic transmission and exclusive leather upholstery color options, such as Radar Red. The 300S costs $605 less than it did last year, and it starts at $33,990.
Big changes also come to the 300C, which now comes standard with the 292-hp V-6 found on the regular 300. It can achieve 19/31 mpg city/highway. The V-6 300C model starts $2,605 less than the 2012 300C. A Hemi V-8 is still available for an extra $2,000, meaning even a V-8 300C is more affordable than it was last year.
A new special-edition Chrysler 300 Glacier model will also be available. It has the same equipment found on the 300S or 300S V-8, but it can only be equipped with all-wheel drive. It will be marketed to Snow Belt states as a winter-chic model.
Production of the 2013 Chrysler 300 has already started, and the model should start arriving at dealerships in the coming months.
---
2013 Chrysler 300 Pricing (2012 Pricing)
300: $30,840 ($29,595)
300 Limited: Discontinued ($33,595)
300S: $33,990 ($34,595)
300C: $36,990 ($39,595)
300C Limited: $40,990 ($43,095)
---
Related
Cars.com Reviews the 2012 Chrysler 300
2012 Chrysler 300 SRT8 Video
New Luxurious Trim Joins Chrysler 300 Lineup