2013 Ford Fusion Hybrid Rated at 47 MPG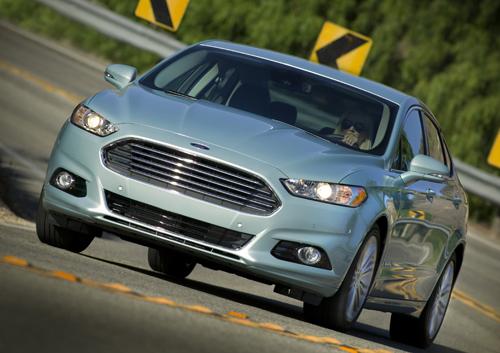 When the new 2013 Ford Fusion Hybrid goes on sale later this fall, it will do so with a 47/47/47 mpg city/highway/combined rating from the EPA under its more stringent five-cycle testing methodology. The Fusion SE Hybrid starts at $27,995, including destination.
That's a big improvement over the 2012 Fusion Hybrid, which gets 41/36/39 mpg. The new Fusion Hybrid's gas mileage also beats other midsize family sedan hybrids, like the 2013 Toyota Camry Hybrid LE (43/39/41 mpg), 2013 Kia Optima Hybrid and the 2013 Hyundai Sonata Hybrid (both rated at 35/40/37 mpg). The 2014 Honda Accord will have hybrid and plug-in hybrid versions, but there's no word yet on their gas mileage.
While the Fusion Hybrid offers exemplary fuel-economy figures for a hybrid family sedan — figures that nearly rival the Toyota Prius' figures — unfortunately, the gasoline-only Ford Fusions offer fairly mediocre gas-mileage figures compared with new models like the Nissan Altima and Honda Accord.
All Fusion Hybrids come equipped with a 141-horsepower, 2.0-liter inline-four-cylinder and a 118-hp electric motor/generator mated to a continuously variable automatic transmission. There's a regenerative braking system and a high-voltage lithium-ion battery for power storage. The Fusion Hybrid also has active grille shutters and an aerodynamic underbody kit. Along with boasting great fuel-economy figures, the hybrid system can travel on electric-only power at speeds up to 62 mph.
The Fusion SE Hybrid also comes equipped with leather upholstery, heated front seats, dual-zone automatic climate control, Sync, MyFord Touch, a 10-way power driver's seat and 17-inch alloy wheels. A leather-wrapped steering wheel and shifter, 18-inch alloy wheels, a navigation system, moonroof and adaptive cruise control are optional.
All Fusion Hybrids will be built in Mexico; the regular Fusion is built in Mexico and Michigan.
Related
2013 Ford Fusion's Gas Mileage Comes in Behind Nissan Altima, Honda Accord
2013 Ford Fusion Priced at $22,495
2013 Ford Fusion, Fusion Hybrid, Fusion Energi at the 2012 Detroit Auto Show