New Online Resource Aims to Make Senior Citizens Safer Drivers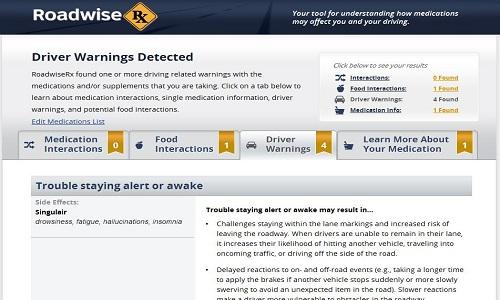 Nearly 10,000 Americans turn 65 every day and continue to drive. Being behind the wheel and using prescription medicine isn't always the safest combination. AAA has created a new online tool to help senior citizens know the potentially hazardous side-effects of driving while taking certain medications.
Set up by the organization's Foundation for Traffic Safety, Roadwise Rx is a free online resource that provides facts about the effects that cross-medicating may have on your driving ability. "Roadwise Rx lets users move beyond the old-fashioned 'brown bag' review with an easy way to virtually pool together their medications and talk to their doctors," Beth Mosher, director of public affairs for AAA Chicago, said in a statement.
By inputting the names of your medication, you'll be able to access in-depth information about how the medications can impair different aspects of your driving ability, including changes in demeanor, maintaining vehicle control and overall situation alertness and concentration. More than 80% of drivers age 65 and older routinely take medication, but only 50% seek medical consultation regarding possible driver-safety issues, according to AAA. Roadwise Rx also provides valuable warnings on possible food interactions and combined medication usages, AAA says.
Do you take medication and drive? Click here to visit Roadwise Rx, no matter what your age, before getting behind the wheel.
Related
Safety Record for Senior Drivers Improves
Avoid Family-Travel Mishaps with AAA's Tips
More Safety News on Cars.com